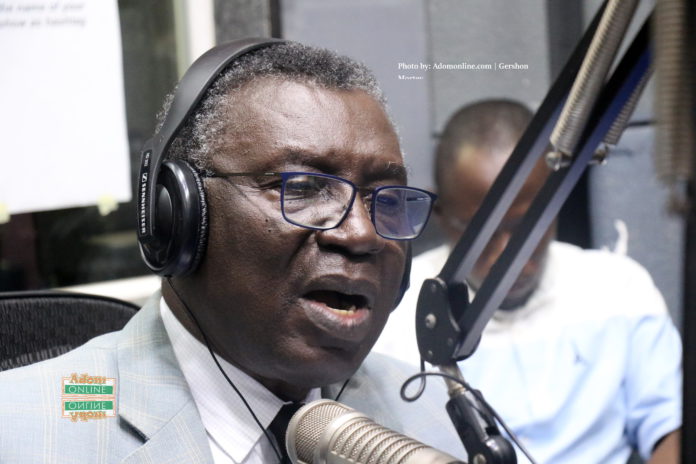 The police service has written to Prof Kwabena Frimpong-Boateng as it opens an investigation into his 37-page galamsey report, from which a docket is to be built for prosecution.
This was revealed by Attorney General Godfred Dame.
He said that the docket would eventually get to his office for the already-started due process to continue, thus, debunking perceptions that he has removed himself from the matter.
Prof Frimpong-Boateng, who chaired the Inter-Ministerial Committee on Illegal Mining, accused some government officials and appointees of the president at the Jubilee House, of not only engaging in galamsey but also frustrating his fight against it while in office as the Minister of Environment, Science, Technology and innovation.
He named the director of operations at the presidency, Lord Commey, as one of the bigshots behind galamsey in the country.
The world-renowned heart surgeon also accused the president's cousin, Gabby Asare Otchere-Darko, of intervening to frustrate attempts by the committee to stop Imperial Heritage Limited from decimating some forest reserves through illegal mining activities.
Prof Frimpong-Boateng also said Information Minister Kojo Oppong Nkrumah, orchestrated media attacks on him so as to court disaffection against him in the eyes of President Nana Akufo-Addo as far as his fight against galamsey was concerned.
Additionally, Professor Frimpong-Boateng named Joseph Albert Quarm, a former Member of Parliament for Manso Nkwanta, as being neck-deep in illegal mining.
They have all denied the allegations.
Speaking on the matter, the Attorney General said, although he is interested in the report, he wants due process to be gone through without him being seen as "railroading" it.
"I am interested in it, but of course, certain fora have been invoked: I understand CHRAJ sees of it, the OSP sees of it. If now I, as Attorney General were to review the report, what would you think? I'm sure it will lend itself to all kinds of suspicions," he told Kojo Yankson.
"I think that really, I can look at the report and review it, but if I do so, you the same media, will say: 'He's just a government's lawyer.' Yes, let independent people look at it," Mr Dame stated.
He said since the docket would eventually land on his table, his intervention is not needed now.
"So, really, I've not removed myself from the process, I'm part of it. It's just due process that will have to be followed."
He advised the media against sanctifying the report prematurely.
"But a caution and admonition that I would like to give you, the media is that do not raise the level of it and do not accord any sanctity to the report until it has gone through the test prescribed by law."

ALSO READ:
Ben Ephson predicts landslide victory for Mahama in NDC presidential primary