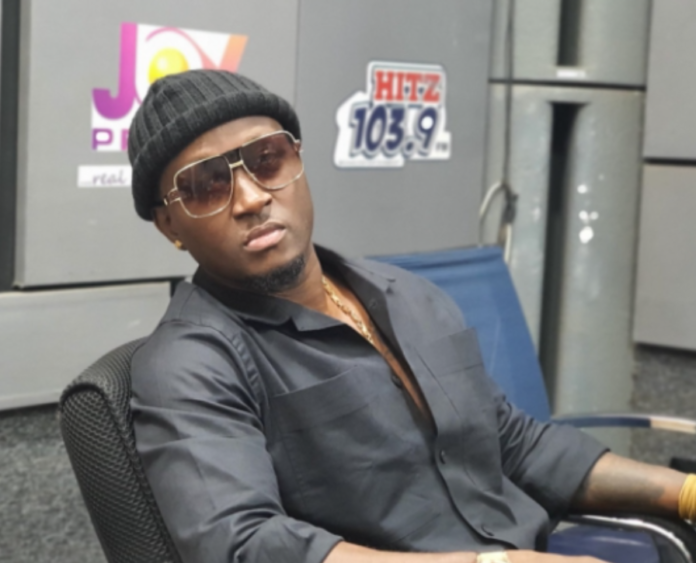 For most rifts between hitmakers and their protégés, the issue of finance and ingratitude plays a major role.
This is no different from the ongoing rivalry between legendary sound engineer Apietus and Papi of 5five music fame as well as their manager Bullgod.
Papi and Appietus were engaged in a 'tug of words' in the studios of Sammyflex TV after the former accused the sound engineer of ripping them off and selling their songs on digital market without their permission.
Appietus produced the sound and added beatboxing in some verses which made their 2011 song, Muje Baya a hit.
It has been revealed that the manager of the music duo, Bullgod engaged in barter trade with Appietus, however, the then agreed condition has become unfavorable in present times.
During the interview, Papi accused Appietus of being a thief and receiving royalties off their songs without giving them a penny since the 10 years the songs has streamed.
"Back then digital platform was not part of our business so it was not included in our barter trade. I had a new label who inquired of our old songs so they could sell on digital platforms that's when we realised our songs were already being sold. We accused our manager Bullgod but he denied uploading it. That's when we started doing our checks".
Papi added that he enquired from Appietus if he was behind the uploading, but he denied it "and acted naive about the whole situation" whereas their checks had proven the songs were allegedly uploaded by Creative Studios, an entity Appietus owns.
The allegation triggered Appietus who joined the discussion via phone and clarified that the musicians never paid for studio fee and other fees and that's his own way of making his money back.
Appietus said he believes the allegations against him is a calculated plan to ruin his reputation and defame his character.
However, Papi retorted, describing Appietus as "st*pid and dumb" for not realising barter is also a form of payment, for which they are not his debtors as the latter is speculating.
The discussion ended with the duo throwing vulgar jabs at each other and agreeing to meet in court for settlement.
Had the duo met face-to-face, there would have been a physical struggle in the studios.