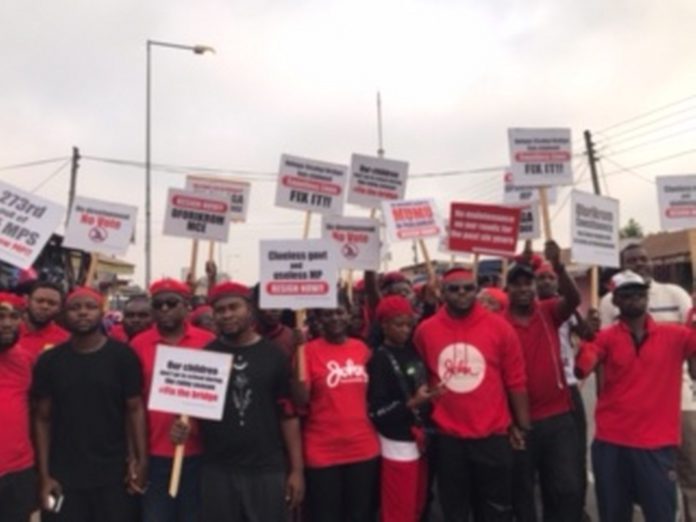 Poor roads and collapsed bridges are major concerns for residents of the Oforikrom Municipality in the Ashanti Region.
Clad in red, the concerned youth of Oforikrom marched along the Anloga-Susanso road assisted by the police, making brief stops at some portions to highlight problems in the constituency.
Bridges constructed over huge drains within the municipality have deteriorated by floodwater claiming several lives.
The Concerned Youth of Oforikrom Constituency are worried about the risks associated with using the bridges.
Addressing the press, leader of the group, Jerry James Sukah, said the community is lagging behind in terms of development.
"Ladies and gentlemen, Oforikrom has over the years been lagging behind in terms of development. The constituency has been neglected for far too long and as citizens, we do not want to be spectators" he said.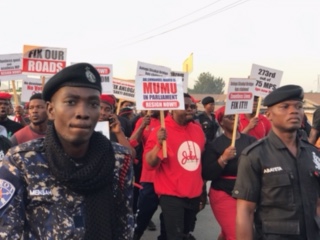 The youth group described as unsatisfactory the performances of their Member of Parliament and Municipal Chief Executive.
"Our Member of Parliament has performed woefully. His performance hasn't been encouraging. He has even refused to speak in parliament which is bad," he indicated.
Mr Sukah also shared the frustration of the youth group with the government's controversial debt exchange Programme.
ALSO READ:
Climate change: Oforikrom MP mobilises communities to take action
Bawumia commissions inner roads in Oforikrom Municipality
"This programme will collapse businesses. The youth will have no future if this programme takes effect. We are fully against it," he said.