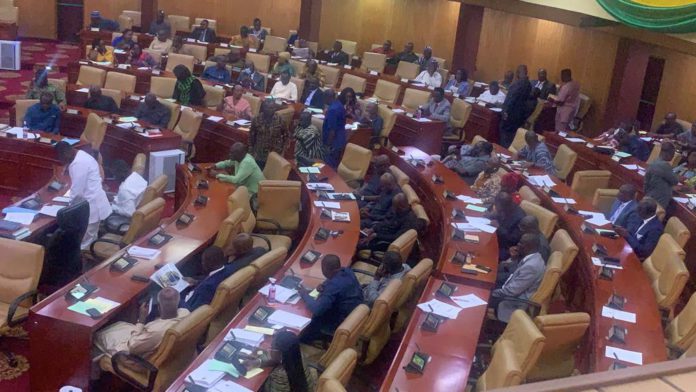 It's almost uncharacteristic to see the ruling government's side in Parliament packed as seen on Thursday.
The Majority succeeded in whipping its members for an obvious reason of critical businesses on the agenda.
The Caucus has a single duty to paddle its way through in getting the five ministerial nominees approved.
It has been difficult to have the Majority Caucus come to the House in their numbers at least from the commencement of this sitting.
But as today's sitting becomes almost like a 'battlefield', the Majority side has packed its side for action.
On the other hand, the Minority had promised "a showdown" in the voice of the Minority Leader, Cassiel Ato Forson, to reject the nominees.
Meanwhile, Speaker Alban Bagbin has announced there will be a vote on the nominees.
President Nana Akufo-Addo nominated six appointees for various ministerial positions and they have successfully gone through vetting.
ALSO READ:
Titus-Glover blasts KT Hammond over conduct at ministerial vetting
Majority begs Minority over decision to reject new ministerial appointees
They will, however, have the green light to assume the position after parliamentary approval.
K.T. Hammond and Dr Stephen Amoah heading Trade and Industry, Bryan Acheampong, for Food and Agriculture, OB Amoah, for Local Goverment and Decentralisation, Dr Mohammed Amin Adam to the Finance Ministry and Asamoah Boateng for the Chieftaincy and Religious Affairs Ministry.