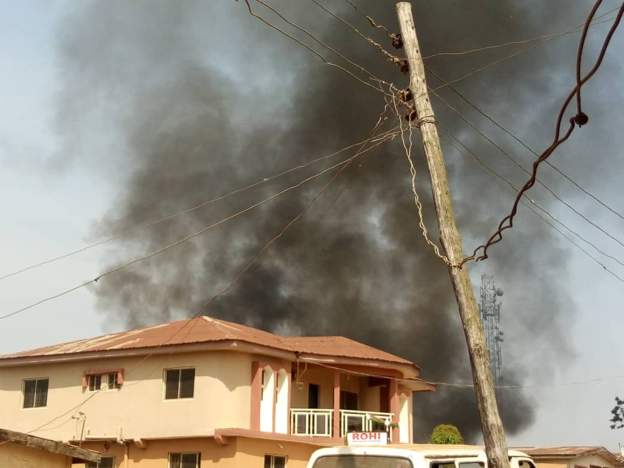 Protesters have set ablaze a church in Akure city, south-west Nigeria, following unconfirmed rumours that the body of a missing one-year-old child had been found buried by the altar.
READ THIS: Check out how much Cristiano Ronaldo is selling his Manchester mansion
Witnesses said two of the protesters were shot and wounded by police officers who tried to disperse the angry crowd.
Police said one of their officers was killed.
SEE THIS: Y'asem Nie: Taking naked photos; Female photographers share unpleasant experience
The child went missing last month while attending the church, known as the Sotitobire Miracle Church, with his mother.
The exact circumstances of the child's disappearance are unclear, but his mother, Modupe Kolawole, told the BBC she suspected foul play.
READ ALSO: Roads Minister orders demolition of 22-storey structure at Airport
Alfa Babatunde, who is the founder of the church, was arrested last week by Nigeria's secret police in connection with the boy's disappearance.
He has not yet commented publicly.
SEE THIS: Local governance expert gives reasons for low turnout at Assembly elections
BBC Yoruba's Temitope Adedeji reports from the scene that it has not yet been confirmed that the boy's body has been found.