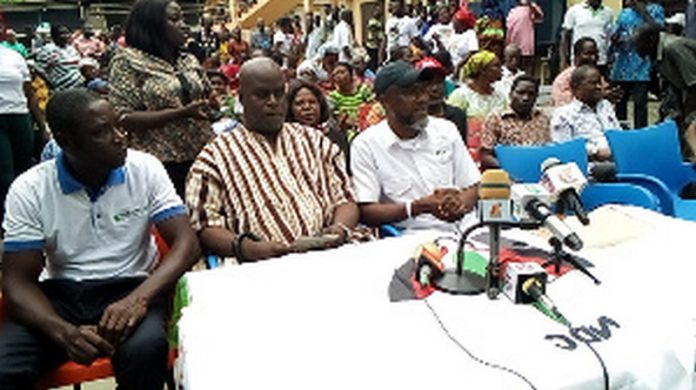 A parliamentary aspirant of the National Democratic Congress,(NDC) in the Suhum constituency, Kofi Adjei alias Otuo, is considering contesting the 2024 parliamentary election as an independent candidate if his grievances are not addressed by national and regional executives of the party.
Prince Kwadwo Addo Tabri polled 518 votes against 510 secured by Mr Adjei while Sammy Bruce Nyarko had 221.
Other aspirants, Yermoh Richard and Rev. James Ofoe-Batsa, had 98 and 15 votes respectively out of 1,357 valid votes case with eight rejected ballots.
However, Mr Adjei alleges he has evidence to show that the election was rigged in favour of Prince Kwadwo Addo Tabri through the conspiracy of some constituency executives and the Electoral Commission.
Addressing the media and hundreds of party members at Suhum on Thursday, June 1, 2023, Mr Adjei said he petitioned the constituency, regional, national executives as well as flagbearer of the NDC, John Mahama, for his grievances to be heard but none has replied to his letters.
He said "I have evidence where the constituency secretary and the regional executives had a conversation which indicates that Chairman Afadzi allowed certain individuals to vote twice and also allowed people who don't qualify to vote, we are not here to put the party to shame rather we are here to say the truth. I promise you that on the 7th of December 2024 Otuo Kofi Adjei will win the seat from the NPP and the means to win it lies in our hands, you haven't heard from me so some of you are saying Otuo is going independent Otuo is going to court but when they ask, you tell them that Otuo said 7th December 2024 the EC will announce me, Kofi, as the winner of Suhum Constituency."
He issued one month ultimatum to the executives of the NDC to address his grievances contained in the petitions submitted to them.
The Suhum constituency is a stronghold of the ruling New Patriotic Party.
The current Member of Parliament, Kwadwo Asante of the NPP, won the seat in 2020 with 34,049 votes which represented 63.95% while NDC candidate Amanda Okyere Kwatia had 19,192 which was 36.05%.
READ ALSO: