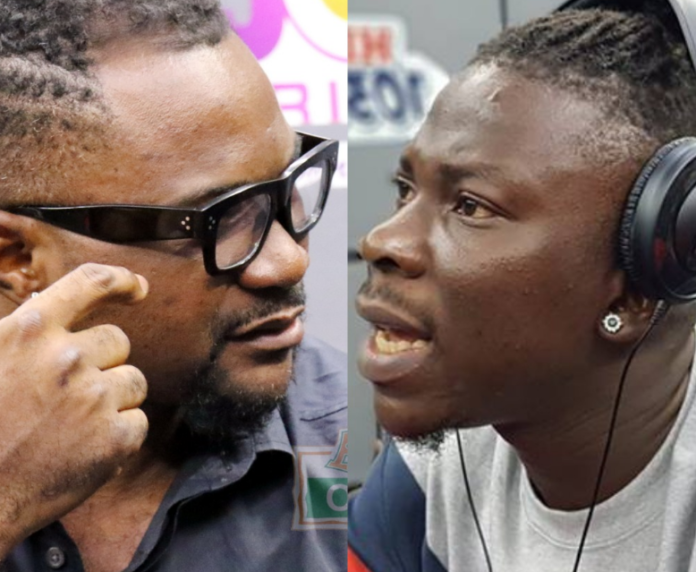 Dancehall musician Stonebwoy has condemned bloggers and other media personnel who are quick to ask for money as a prerequisite for supporting the works of musicians.
According to him, such a habit has negatively affected the patronage of some of his European tours.
READ ALSO: Shatta Wale on verge of landing another mega-deal with renowned beer, Budweiser
Speaking to Andy Dosty on Daybreak Hitz on Hitz FM, the musician wondered why bloggers will report negative stories at no cost yet demand money as a precondition for reporting positive news.
But artiste manager and entertainment pundit, Mr Logic disagreed with Stonebwoy.
Mr Logic is of the perspective that Stonebwoy should rely on a "professional" publicist to put his works out.
He added that bloggers buy data and should equally be sorted out just as Stonebwoy seeks financial freedom for the crew that works under him.
Ghanaian media should emulate Nigerians in terms of promoting artistes.
"Pay them and don't complain; whether positive or negative. He [Stobwoy] needs a professional publicist. You are a big A-list artiste. It is compulsory, his publicist should follow him where he goes. So why are they not packaging for him? Any professional blogger would fault Stonebwoy. The truth is these guys should work with the structures. There is no problem with bloggers asking for something," Mr Logic said.
But Stonebwoy who felt Mr Logic was pained by his refusal to do a feature for his artiste took to social media app, Twitter, to react to Mr Logic's comments.
ALSO READ: American actor Samuel L. Jackson's perspective after visiting Ghana
Mr Logic, inside of you I know you dey vex becz [sic] I haven't done the feature for your artistes. Standard and brand affiliation is important… Hate is old school @MrLogicMusic, Stonebwoy tweeted.
Please tell him not to instigate any professional blogger against me… I respect bloggers and every pro blogger or blog won't fault me for this it's an industry issue we are all involved…, he tweeted further.
But Mr Logic maintained his stand, saying Stonebwoy's publicist failed him.
A delayed collaboration will never make me make a submission against you. There is no hatred. I was being blunt and straight, Logic tweeted in his reply.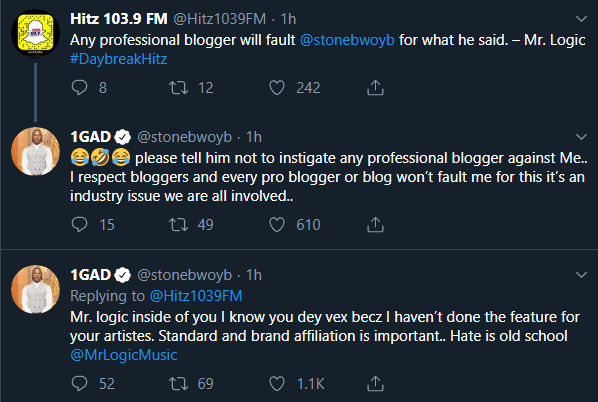 Source: Adomonline.com/ Dennis K. Adu