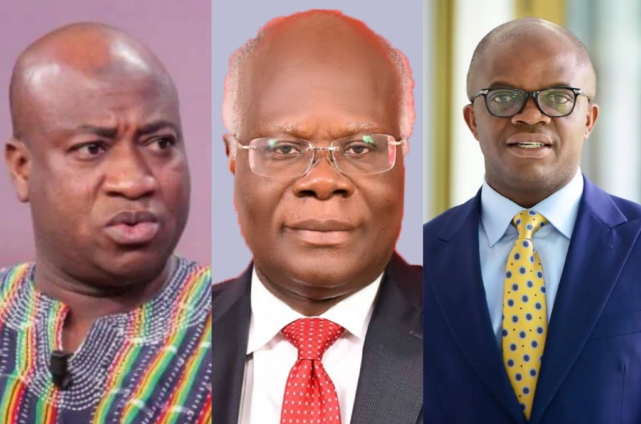 Tamale Central Member of Parliament (MP), Murtala Mohammed, has expressed concern about President Nana Akufo-Addo's new appointments to the Ministry of Trade and Industry.
On February 7, President Akufo-Addo named Adansi Asokwa MP, Kobina Tahir Hammond, as the substantive minister for the industry, following the resignation of Alan Kwadwo Kyerematen.
Per a letter from the President which was read by the Speaker of Parliament, MP for Nhyiaeso, Dr Stephen Amoah, will now be expected to deputise for K. T. Hammond at the Ministry.
But reacting to this development, the lawmaker indicated that due to the temperaments of the two politicians, it is not prudent for them to be under one roof.
According to him, putting the two together may also affect work at the ministry.
"We should pray they don't exchange blows. That's what I think. These are two very complex individuals. Very, very complex … You are talking of two very complex individuals who are going to work at the same ministry.
"I know honourable K.T. Hammond. He is a no-nonsense man. There are certain things he won't tolerate under any circumstance. And I know my good friend, 'Dr Sticker'. When his name was mentioned, we all rose. We were happy for him.
A section of Ghanaians have also questioned the relevance of the President's recent appointments.
According to some of the critics, they do not understand why the President's recent changes failed to touch on the Finance Ministry.
In recent times, there have been many calls for the sector minister, Ken Ofori-Atta, to be removed from office over his alleged complicity in the country's economic crisis.
But despite these widespread concerns, the President says he still has faith in the minister at the helm of the country's treasury.
RELATED:
Akufo-Addo makes changes to Ministerial appointees
Why Akufo-Addo got ministerial reshuffle wrong – Lecturer
Meanwhile, a Political Science lecturer at the University of Ghana, Professor Ransford Gyampo, has described President Akufo-Addo's Tuesday governmental appointments as no ministerial reshuffle at all.
According to Professor Gyampo, the exercise mainly filled vacancies in government where there have been resignations and complemented that with token movements of individuals that really do not carry any weight.