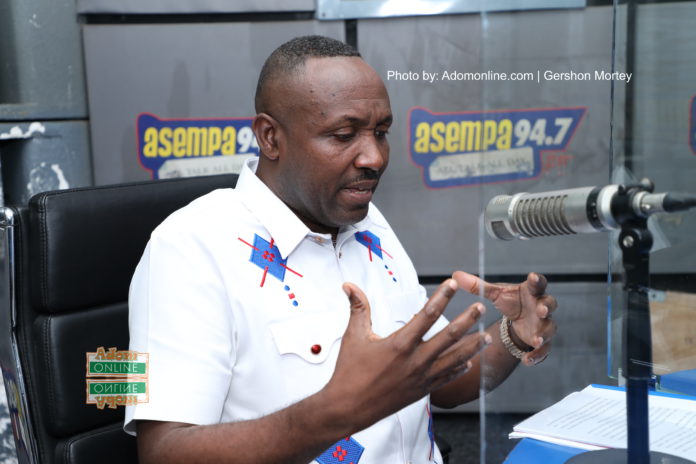 Former General Secretary of the New Patriotic Party (NPP), John Boadu, has urged delegates to vote against aspirants who are not confident about touting the achievements of the Akufo-Addo-led government in choosing a flagbearer for the next election.
According to him, the incumbent government has done a lot that NPP members need to take pride in; hence, he cannot comprehend why any aspirant will shy away from using the achievements in their campaign.
"We need someone with a spirited effort to prove what we have achieved and be able to stand for the vision of the party that is why we will put together a manifesto, not someone who will demoralise the party because of personal interest.
"If we demoralise the party now, how will we bring everyone together to campaign after the 2024 election? Effort alone is not enough; money, ideas, and philosophies that we will put together all matter," he admonished.
He made these comments on Asempa FM's Ekosii Sen, though he did not mention any aspirant's name.
"It seems some of the aspirants are not interested in the record we will campaign on in 2024. I admit there have been a few challenges, but some are making it seem as if we haven't done anything, NPP's record is not bad at all.
"We should just know that whether the records are positive or negative, it will haunt any of the candidates we elect. Ghanaians will put it to them in the coming election. So no aspirant should think they can absolve themselves from the problem," he cautioned.
Mr Boadu's message of caution comes barely three days before the NPP's Super Delegate Conference, where 900 delegates will select the five candidates to contest the November 4, 2023, presidential primary.
Per the rules of the game, if more than five aspirants qualify to contest, the party will convene a special electoral college to select five candidates for the final round.
The election is expected to take place at 17 polling stations nationwide.
ALSO READ: