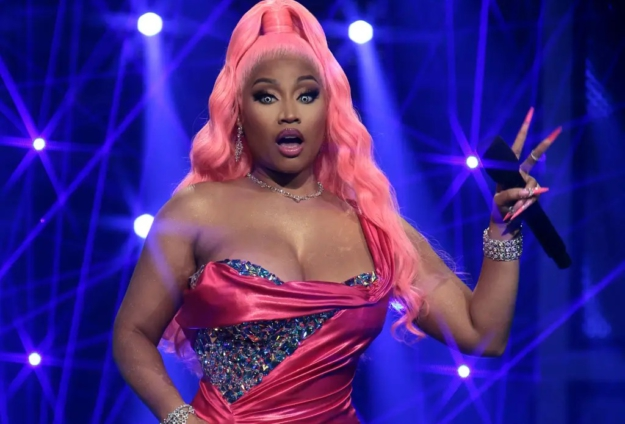 Jay-Z and Nicki Minaj have been ranked by Billboard as the best male and female rappers of all time.
The publication released its 'Top 50 Greatest Rappers of All Time' on Wednesday, in honour of hip-hop's 50th anniversary.
When it came to naming the GOAT rapper, Billboard put none other than Jay-Z, whose real name is Shawn Corey Carter, at the top of their list.
Meanwhile, Nicki came in at number 10, officially making her the only female in the top ten list and therefore the greatest female rapper of all time.
Rapping legends such as Tupac, Eminem, The Notorious B.I.G, Snoop Dog and Nas also made it into the top 10.
Billboard claimed that Nicki, 40, who hails from South Jamaica, has earned her crown as the modern-day Queen of Rap with her fierce, braggadocious spirit.
The publication wrote: 'She's undeniably blazed the trail for the next generation of female MCs, while at the same time, building a legacy whose impact is hardly limited to the hip-hop world.
'Nicki is one of only a dozen artists to have more than 100 Billboard Hot 100 entries, and earned the MTV Video Vanguard Award in 2022 for her provocative music video.
Nicki, who rose to fame as part of rapper Lil Wayne's Young Money camp, is now reportedly worth a cool $130 million, according to Celebrity Net Worth.
Billboard then highlighted some of Jay-Z's successful career moments that have put him in the number one spot.
The rap mogul, 53, has now won 24 Grammys, sold 140 million records and has 14 Billboard 200 No. 1 albums (the most amongst solo acts).
They wrote: 'Beyonce Knowles-Carter's husband has succeeded in every era, spitting regal-scented rhymes that speak to the struggle, and to the opulence that follows an intensely self-made greatness.
'Maybe there are other rappers who could claim to match Jay at his peak. But there are simply none who can match his entire career — his longevity, the breadth of his accomplishments, and what he's meant to hip-hop from a musical, cultural and financial standpoint for the last three decades.'
The Billboard list left fans divided and sparked a debate on Twitter about who the GOAT rappers really are.
Tweeting about Nicki's ranking, one fan penned: 'She's the Queen of Rap! We knew this.'
Another said: 'And some of y'all are still lying to themselves saying she fell off'
A third disagreed: 'Billboard should be ashamed for putting Nicki before SO MANY OTHER RAPPERS!'
When it came to discussing Jay-Z, someone wrote: 'Na, he top 10 but not greatest'
While another said: 'We don't need Billboard to tell us this …. Culture been knew!'
One penned: 'This isn't news at all. This is a well known fact'
Many argued that Kendrick Lamar, who was ranked number 2, should have been top of the list.
Billboard's 10 Greatest Rappers of All Time
Jay-Z
Kendrick Lamar
Nas
Tupac
Eminem
The Notorious B.I.G.
Lil Wayne
Drake
Snoop Dog
Nicki Minaj