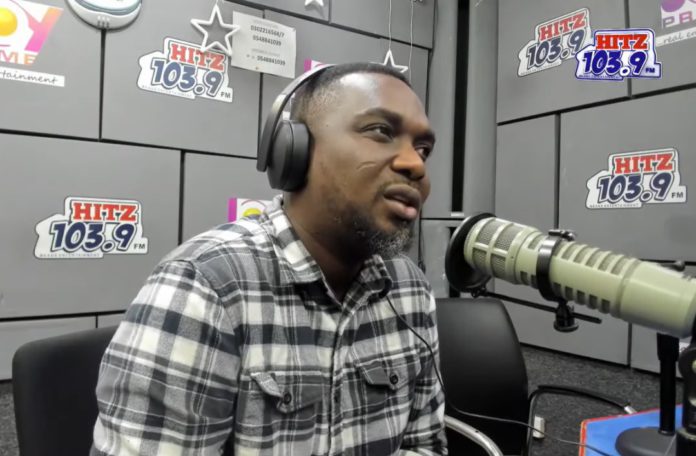 Aside his well-known musical talent, gospel minister Joe Mettle has lived a life full of surprises; some pleasant, some a little frustrating.
On Wednesday's edition of Joy Prime's entertainment show, Prime Morning, Joe Mettle unveiled some interesting details of his life bordering on his childhood to his present state as a father-of-one.
Family
Joe Mettle was born to Florence Addo and Emmanuel Mettle as the eldest of six children. He is the only child of both parents, but has five step siblings, two boys and three girls. Despite the stepchildren outnumbering him, Joe Mettle has a peaceful relation with all his siblings
Education
It is no news Joe Mettle studied draftsmanship at the Modern School of Draftsmanship (MODESCO), but his intention was to acquire skills to be an architect. From childhood, he was fascinated with planning, designing, drawing and construction. His dream was to further his education at the Kwame Nkrumah University of Science and Technology, but that did not happen. He had no choice than to ditch architecture because it was too time consuming.
Background
The gospel artiste lived in a typical Ga community where survival of the fittest was their mantra. According to him, he was forced to be adventurous and explore because "if you don't get hard in the system, you will drown".
His mum was a petty trader who used to sell 'waakye' leaves. They bought in bulk from merchants in Takoradi and retailed to food sellers. When that business went out of date due to the introduction of polythene and packs, Joe and his mother hawked brooms, canes and kerosene until they finally found their feet in food business.
Fun life
Joe Mettle hardly parties. He has never done clubbing because he is not used to the noisy night life, neither does he drink hard liquor. The first time he tasted alcohol was during a community training when his friends trapped him by presented alcohol in a beverage bottle. The goodie-two-shoes said he developed severe mouth sores and till date, he has not got the guts to try again.
Dating and marriage
The gospel musician dated "once or twice" before meeting his soulmate whom he wed. However, his relationship could not sustain due to his busy nature in pursuing his spiritual ministry.
However, when he met Salomey Selassie Dzisa, he just knew in his spirit she was the one and observed her from a distance before making his intentions known.
Joe Mettle met Sellassie online while scrolling through his social media platform. He took notice of her again at his events and at that point, his heart prompted him to make a move which he didn't. But when Sellassie told him 'God bless you' after one of his ministries, he knew it was time to make a move. After talking for almost three years and dating for a year, they tied knot in a plush ceremony in August 2022.
Daughter
He is now a father-of-one to a beautiful girl he described as super hyper and energetic. Joe Mettle was present throughout the pregnancy period and he witnessed everything in the labour ward. It was a difficult moment seeing his wife in pain but it all ended in smiles and glory.
For those who wish to see his daughter's face, it is almost impossible since he does not see himself posting her anytime soon.
Children
Joe Mettle wishes to have ideally two children, maximum three.
Nannies
Joe Mettle never had a nanny care for him so he will not hire a nanny. According to him, he likes direct bonding and he feels nannies take their share in parental love. He will rather leave parenting for grandparents than nannies.
MORE: