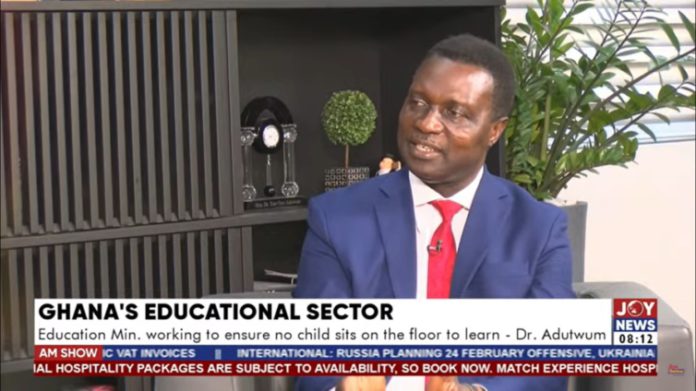 The Education Minister, Dr Yaw Osei Adutwum, has clarified his comments on JoyNews feature series 'Ghana's Schools of Shame'.
It was reported that the Minister was embarrassed that the media chose to expose the acute lack of school infrastructure in some basic schools, instead of highlighting the positive stories the country's education system has chalked.
Speaking at a programme last week, the Minister said "Recently I saw some TV programming where they were talking about Ghana's School of Shame and I was ashamed, because of all the great things happening in the country, we want to focus on the negative and get the world to know that there are negative things in Ghana.
"Can you look straight in the eye of these children and tell me they are coming from schools of shame? They are coming from schools of fame. They are going to change the story of Ghana."
Following this address, education advocates, political actors and a section of Ghanaians criticised the Minister.
But clarifying in an interview on JoyNews' AM Show, Mr Adutwum said his statement was misinterpreted and taken out of context.
Touting himself as a problem solver, the academician said his duty as a government appointee in charge of education was to fix issues facing the sector.
Thus, when the JoyNews feature series highlighted some of the infrastructural deficits in rural schools he ought to resolve them.
READ MORE:
I was ashamed when I saw 'Ghana's schools of shame' documentary – Education Minister
Okudzeto Ablakwa reacts to 'Ghana's schools of shame' documentary
"I believe in solving problems. I don't believe so much about disputing and others. So how people took my statement out of context was amazing.
"I was amazed when I saw that they took the statement and then photoshopped it to make it appear that I was saying that those schools [in the Ghana Schools of Shame] were schools of fame," he said on Thursday.
"How would I say that?" he quizzed.
The Minister further revealed that some 5,000 pieces of furniture are being transported to the Kpandai constituency in the Northern Region.