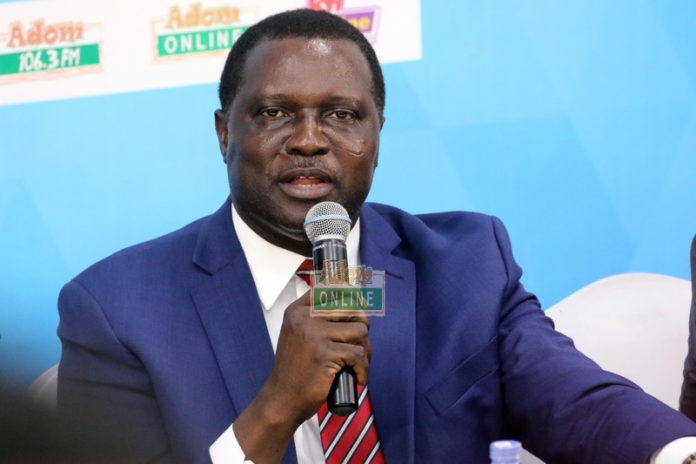 Education Minister, Dr Yaw Osei Adutwum says he felt embarrassed by JoyNews' 'Schools of Shame' documentary.
His shame, he said, stems from the fact that there are many positive stories about the strides Ghana is making in spite of the challenges that the documentary could have focused on, but the journalists chose to expose the acute lack of school infrastructure in some basic schools, as contained in the documentary.
'Ghana's Schools of Shame' is a feature series on the JoyNews Channel that highlights the country's education infrastructure challenges in three districts of the country.
The Krachi Nchumuru District, for example, has 68 public basic schools. About 45 percent of the schools are in terrible shape. Over 7,000 children have no furniture.
The situation is not different in the Kpandai District where many of the children lie on the bare floor to take lessons and examinations.
Speaking at the Ghana Science and Tech Explorer Awards ceremony on Wednesday, the Minister said despite the great things happening in the country, the documentary only sought to project the negatives in the education sector of the country to the global world.
He argued that there are students who are "coming from schools of fame" in Ghana and have been able to win awards.
"Recently I saw some TV programming where they were talking about Ghana's School of Shame and I was ashamed, because of all the great things happening in the country, we want to focus on the negative and get the world to know that there are negative things in Ghana
"Can you look straight in the eye of these children and tell me they are coming from schools of shame? They are coming from schools of fame. They are going to change the story of Ghana," he pontificated.
The Minister, while admitting that indeed the country is faced with many challenges, stressed that the young men and women of the country are determined to transform Ghana. Thus, there must be a spotlight on the great things happening in the country.
"If we should take a cue, we should rather do a programme that highlights these young men and women and tell the world Ghana is moving. It is part of the challenges. Yes, there are challenges but I tell you this, the children of Ghana are so well-prepared to be the best in the world."