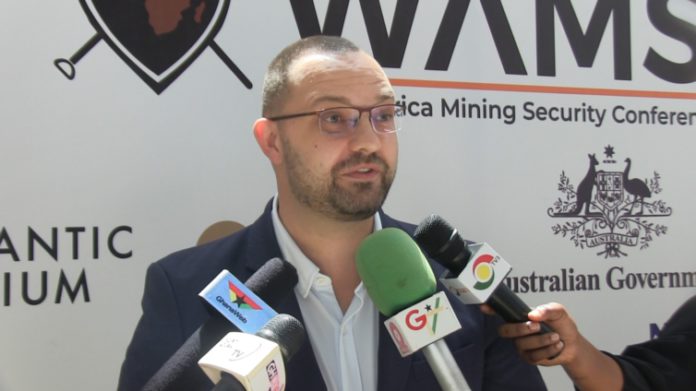 Ghana will generate about $6.6 billion annually from lithium when the mining of the mineral begins in 2026.
Australian mining company, Atlantic Lithium Limited, is expected to start production in 2026 which will create between 1,000 to 2000 jobs in the Central Region.
Speaking on the sidelines of the West African Mining Conference, Chief Executive Officer, Keith Muller, expressed optimism about receiving a permit and obtaining a mining license by the end of September 2023.
"I've been quite surprised about the level of engagements we've had with the Minerals Commission. I think its CEO has done a sterling job in assisting us in the process of obtaining a permit. We've never been this close to obtaining a mining license. We're very excited and we believe it will happen in the next couple of weeks, if not by the end of this month".
"The company will generate in excess of $6.6 billion. More than half of it will go to the benefit of Ghana in the form of taxes, royalties, company salaries, and contracts to the locals," he stated.
Lithium, a soft, silvery-white alkali metal has become a critical element in today's world, particularly due to advancements in vehicle manufacturing. This lightweight and highly conductive metal is in high demand, primarily for its use in electric vehicles.
Mr. Muller said Ghana will soon make a mark in the electric vehicle market.
"We've been operating in Ghana since 2016. Seven years ago, lithium was not a hot commodity as it is now. So we've been putting efforts into the country, we've invested almost $40 million till date. The main consumer of lithium is the electric vehicle market".
"We've got a close partnership with American company, Piedmont Lithium, to receive half of our concentrate and the other half is quite incumbent so there's quite a potential to do something with that with interested parties," he added.
The Australian government and its partners organised the West African Mining Conference.
According to the Australian High Commissioner to Ghana, Berenice Owen-Jones, the conference sought to encourage mining companies to operate in a safe environment as well as address increasing jihadists' violence.
"We have brought together a range of security analysts, mining companies, governments and diplomats from around the world to analyse the security situation in the sub-region and also to look at how to mitigate that risk. Also, to look at how to have mining companies operate in a more secure and stable environment".
"This is the third edition of the West African Mining Conference, and unfortunately, we notice that every year the security outlook becomes more complicated. So this reinforces the point that it is a very timely conference," she pointed out.
Security analyst, Adib Saani, made an appeal for intensified efforts in ensuring security in the mining sector.
"Even though we benefit economically and financially from the mining sector, there are a lot of challenges in the mining sector that need to be addressed. Also, we have the issue of the possibility of explosives meant for the mining sector, diverted to other sources.
"Ghana continues to be a logistics hub for terrorists, and on several occasions, vehicles filled with explosive-making materials that are suspected to be coming from the mining sector have been impounded in other countries such as Burkina Faso and Mali, only for investigations to reveal that they had come from Ghana."
The West African Mining Conference was themed "Operating in challenging environments".
ALSO READ: