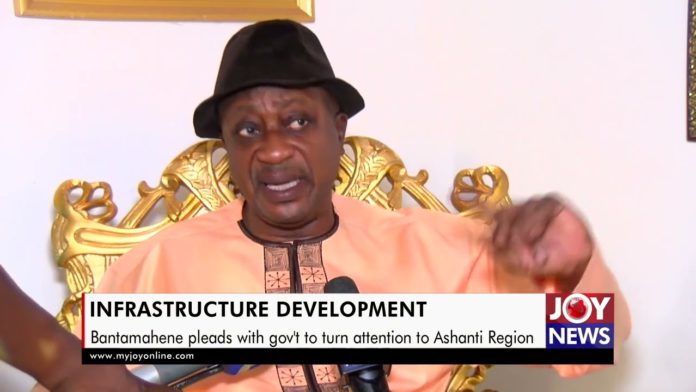 The Bantamahene, Baffour Owusu Amankwatia VI, has vowed to lead the mobilization of chiefs for the development of the Ashanti regional capital, Kumasi if the Kumasi Metropolitan Assembly (KMA) fails to do so.
Baffour Owusu Amankwatia VI blames the KMA for the rampant mounting of kiosks and containers and allowing congestion at the city centre which he says is turning the once flourishing Garden city into a village.
Sharing his New Year message with Luv FM's Erastus Asare Donkor, Baffour Owusu Amankwatia VI pointed out that the city has become ungovernable, with perpetrators going unpunished.
The Kumasi metro houses a population of 3,630,000 as of the end of 2022. 
The city is the second-largest in Ghana, after the capital city Accra.
The city was referred to as the Garden City due to its green area cover and brilliant settlement layout.
Underdevelopment emanating from Issues of congestion, open space filth, street markets, and uncompleted government projects are eroding the said legacy of the city.
According to the Bantamahene, Baffour Owusu Amankwatia VI, people with political authority have ignored calls for the development of the city.
"I had the opportunity to put this issue before the Regional Minister when he addressed the regional house. We have nobody to blame other than the KMA and its assembly members. We know assembly members take money from these people to put up these structures.
"Pavements inhabited by people doing business. It has made Kumasi look like a village. Some laws must be adhered to. But once they (traders) get the authorization from the assembly and authorities, they do not care about the authority of Nananom," he said.
"Decongestion issues in Kumasi are serious to the extent that people are selling tomatoes in front of Komfo Anokye hospital. We want a KMA that would be able to decongest the city. Nananom does not have political power. The political power is with the KMA. We have had a meeting with them and came up with the issue of filth and the issue of trying to put Kumasi in order. In 2023, if they fail to do it, Nananom will take it upon ourselves to make sure Kumasi is clean.
"There are projects currently being done by Nananom and not the KMA. We are trying to privatize the road in front of Manhyia. If we keep waiting for the government, things are not going to happen. People say Kumasi is the second city, however, in terms of development, Kumasi is 50 years behind Accra, which is not acceptable. Kumasi is turning into a village," he added.