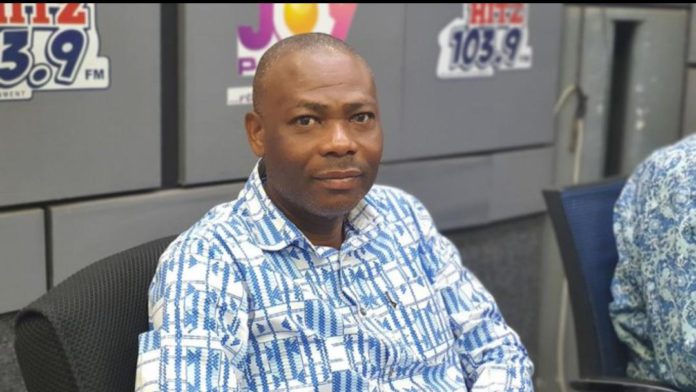 The Chief Executive Officer (CEO) of Ghana Music Rights Organisation (GHAMRO), Abraham Adjatey, commonly known as Agya Abraham, has described as unfortunate some allegations a member, Akosua Agyapong, made against them.
In reference to the demise of Kwadwo Akwaboah Snr, Akosua Agyapong was up in arms with GHAMRO for failing to be financially beneficial to the industrious highlife artiste when he was alive.
In an interview on Adom FM, she asserted that Akwaboah Snr informed the organisation of being financially handicapped but he was sent a meager GHS 250 via mobile money, earning she said the late artiste was not happy about.
She went on to label the CEO, Agya Abraham, as a thief who is failing to fulfill GHAMRO's mandate as a transparent royalties collection entity.
Reacting to the claims on the same platform, Agya Abraham stated categorically that he has not received any call from the late Akwaboah Snr demanding financial assistance for medical welfare.
"Kwadwo is not someone who was comfortable letting people in on his problems. I have received no call from him personally as alleged. The heavens and earth and holy spirit will bear me witness that this man has not informed me of any problems or made demands, not even once."
Due to his sight impairment, Agya Abraham said Akwaboah Snr had a separate portfolio where monies could be handed to him directly, without having to pass through the usual lengthy procedure, hence there is no way he would have been paid in mobile money as Akosua Agyapong claimed.
The CEO opined that the unfounded claims by Akosua Agyapong is an insult to Akwaboah Jnr's potency of caring for his father, owing to his well established background in the industry.
Speaking on the label as a thief, he said it is the lowest Akosua can bring his name since he has no charge of thievery both in GHAMRO and in his other corporate portfolio.
Agya Abraham challenged Akosua Agyapong to provide evidence of her claims for further investigation or allow his name and GHAMRO to rest.
RELATED