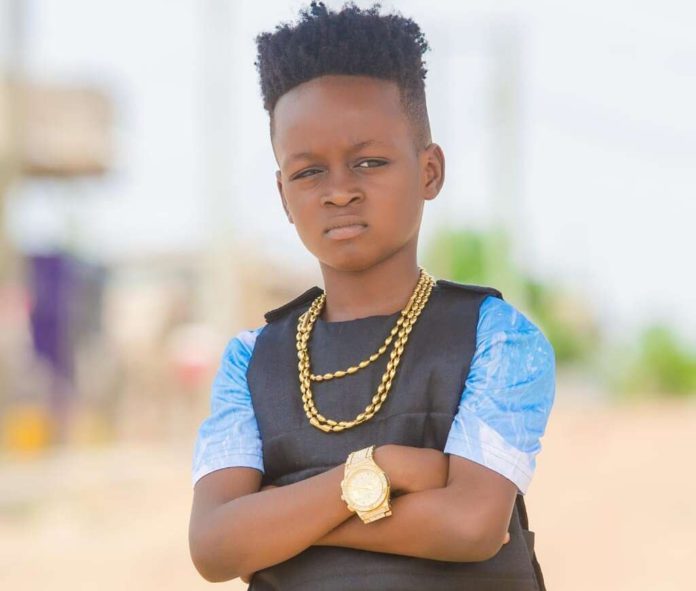 Family of young Ghanaian artiste, Kallai Nana Qwaachi famed Fotocopy, has rendered an unqualified apology to the public for some utterances he made deemed disrespectful.
The genesis of his problem with Ghanaians are some comments he made against Rockstar Kuami Eugene after he was denied a feature.
Fotocopy is quoted to have said that Kuami Eugene is the artistes he hates because the reply he gave that he is not ready to feature an artiste without numbers made him cry.
Their issue was quashed when they hugged after an interview, which has now been proven to be a façade.
In another twist, Fotocopy is back with his smear campaign as he revealed he was bullied into making peace with his senior colleague.
He opined that in a meaningful society, he deserves an apology from Kuami Eugene, not the other way round.
On the issue of a collaboration, the nine-year-old said he no longer needs it as he sees himself as a rated artiste just like Kuami Eugene.
His comments did not auger well with Ghanaians who have called out his parents for failing to groom and discipline him.
In reaction, Fotocopy's family, doubling as his management, has issued a press statement to defend their son.
They explained he did not mean to disrespect anyone with his answers during the interview and extended an apology to all who felt offended and disrespected.
They believe his utterances are exhibition of his youthful exuberance which should be excused.
"As much as he is being guided, nobody tries to take away his childhood from him which reflects in his demeanor sometimes. We ask you to keep supporting the young talented musician to reach the height he apsires to reach in his musical journey."
SEE ALSO