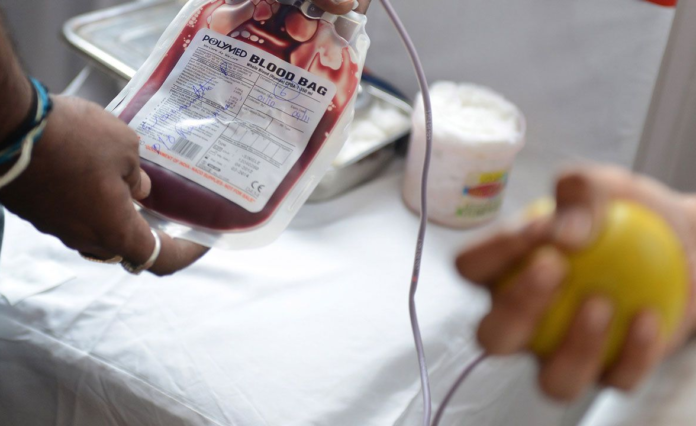 Ecobank Ghana is urging relevant institutions to improve education and awareness on voluntary blood donation in the country. This call follows a recent research by the National Blood Transfusion service that many Ghanaians shy away from donating blood voluntarily.
Managing Director of Ecobank, Ghana, Dan Sackey made the call when the bank partnered with some agencies to launch a blood donation campaign to mark world blood donor day.
Ecobank Ghana in partnership with Nestle, Ernest Chemist and the National Blood Services hosted a blood donation exercise to mark World Donor Day. The focus of this year's campaign is blood donation and universal access to safe blood transfusion, as a component of achieving universal health coverage.
Ecobank is a donor institution that historically has undertaken annual blood donation exercises aimed at supporting efforts to re-stock the national blood bank.
In demonstration of the bank's commitment towards contributing to quality health, staff of the bank and its affiliates are donating blood in four key centres in Accra, Kumasi, Tema and Tamale.
June 14 every year is World Blood Donor Day, according to the World Health Organisation.
According to Ecobank, Ghana the sustainability of its business is determined by the health of customers, hence the decision to embark on the blood donation project.
The bank is, therefore, partnering with Nestle Ghana, Ernest Chemist and the National Blood Transfusion Services to create awareness on the need to donate blood voluntarily.
Speaking to donors at the Ecobank Ghana head office, Mr Sackey highlighted the bank's resolve to continue its contribution towards healthcare delivery in Ghana.
"We are confident that this exercise will save lives, families and homes. We will continue to contribute our quota to the enhancements of the health sector for the people of Ghana," he noted.
Customers of the bank were also encouraged to join the exercise.
Source: Adomonline.com