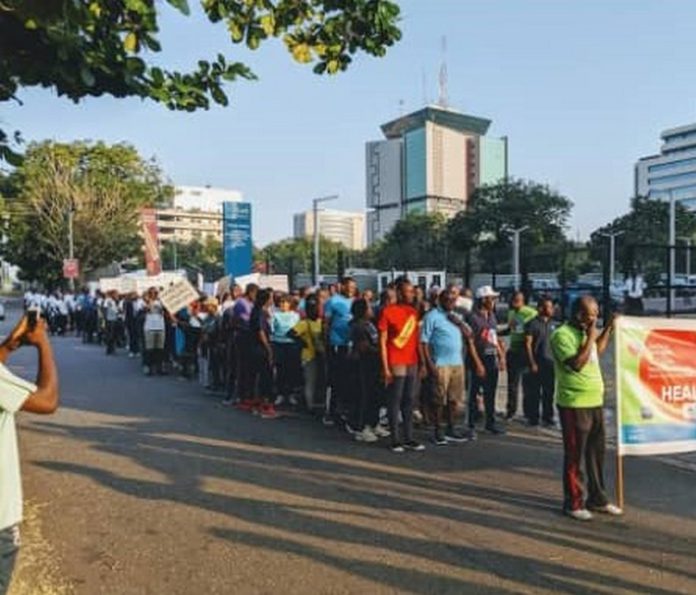 Ecobank Ghana, its health partners and the general public have embarked on a health walk to drive its commitment to the fight against Non-Communicable Diseases (NCDs) in the country.

The fight forms part of  Ecobank Day Agenda for this year and for the next three years.
Ecobank's health partners in the fight are the NCD Alliance, National Diabetes Association, Ghana Health Service and the Health Ministry, who were joined by hundreds of other Ghanaians for the walk.
READ ALSO: SAA in more trouble as union threatens 'total shutdown' of over proposed job cuts

Managing Director of Ecobank Ghana, Daniel Sackey called on corporate Ghana to prioritise the fight against non-communicable diseases.

He noted that non-communicable diseases, according to the World Health Organisation are responsible for over 30 per cent of all reported adult deaths in most African countries and it is the leading cause of ill-health, disability and premature deaths globally.

"We can, therefore, not overemphasise the importance of today's walk which should encourage each of us to cultivate the habit of staying active and healthy," he said.

The four-kilometre walk started from the Head office of the bank at Ridge in Accra through to the Osu Cemetery, Accra Sports Stadium, Education Ministry, National Theatre then back to the Ecobank Head Office where participants engaged in some aerobics amidst music.

Ecobank Ghana has singled out non-communicable diseases as the main focus of the Ecobank Day celebration across 33 countries worldwide for the next three years.

READ ALSO: COCOBOD gets $600m for production, warehousing and processing interventions
The bank has launched a QR Code that allows donors to donate electronically into an account that can be accessed directly by the NCD Alliance for their work.
Ecobank has also planned activities till mid-November including a health walk to commemorate World Diabetes Day among others.

For a seamless administration of activities, Ecobank has collaborated with the Health Ministry, NCD Alliance and WHO on the said project.

READ ON: China releases funding for Phase 1 of Sinohydro roads – Bawumia reveals
The sub-theme for 2019 is 'Prevention and Health Promotion' under the key objective of creating awareness across five market centres; Kaneshie – Accra, Ashaiman – Tema, Bantama – Kumasi, Market Circle – Takoradi and Tamale Market Centre – Tamale.