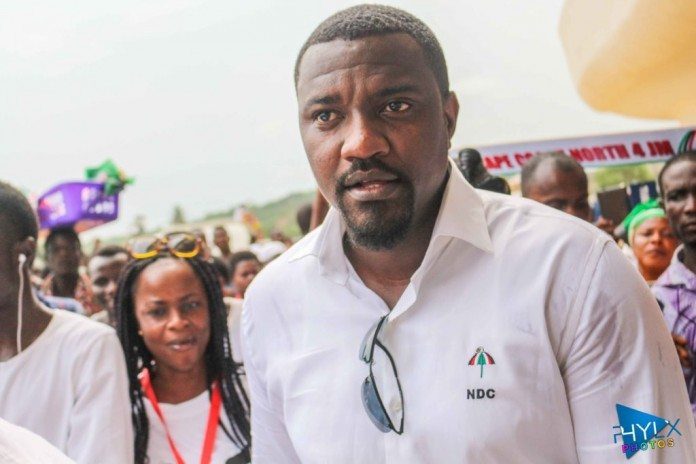 A total of 118 people comprising 20 women and 98 men have picked forms to contest in the opposition National Democratic Congress' (NDC) parliamentary primaries in the Greater Accra Region.
The nominees including former Executive Director of National Service Secretariat, Dr. Michael Kpessah Whyte and actor John Dumelo.
Many incumbent MPs including the Member of Parliament for Ningo-Prampram, Samuel Nartey George; Alfred Okoe Vanderpuje, MP for Ablekuma South; MP for Odododiodoo, Nii Lante Vanderpuije, and Ashaiman MP, Ernest Norgbey are also seeking to get the nod of the party to contest for the parliamentary seat in the 2020 general elections on the ticket of the NDC.
ALSO: Robbers attack commercial bus on Tarkwa-Takoradi Highway
Of the 34 constituencies in the region, only the Ablekuma North seat will be contested unopposed by Winifred Ashley.
At Shai Osu Doku where Dr. Kpessah Whyte is putting himself up for elections at the party level, the incumbent MP, Linda Ocloo is also seeking to get the endorsement of the party again.
Linda Ocloo, beat competition from Dr. Kpessah Whyte in June 2016 in a by-election to choose a parliamentary candidate when her husband, Desmond William Ocloo, died in a tragic accident at Juaso in the Ashanti Region in March 2016 shortly after he was elected.
She went ahead to win the parliamentary polls in the December 2016 general elections.
ALSO: Teenager killed in motor crash
The Ayawaso West Wuogon parliamentary primaries will see actor John Dumelo compete with Suzzy Afua Adoboe for the seat.
Dumelo had earlier come forward to contest the NDC primaries for the Ayawaso West Wuogon constituency when that seat became vacant following the death of the incumbent New Patriotic Party (NPP) MP, Emmanuel Kyeremanteng Agyarko in November 2018. He, however, withdrew before the main contest.
A pharmacist, Delali Brempong won the primaries at the party level but lost to the widow of the late MP, Lydia Alhassan who contested on the ticket of the NPP in the controversial polls.
Mr. Brempong, who is not a first-timer at the primaries seem to have given up on attempting to become MP for the constituency as he failed to pick nominations by the Friday July 12 deadline.
ALSO: Dzifa Gomashie eyes Ketu South Parliamentary seat
See the full list of nominees for the upcoming NDC primaries in the Greater Accra Region.
SHAI OSUDOKU
1. DR. KPESSAY WHYTE
2. HON DAVID ASSUMENG
3. HON. LINDA OCLOO
4. ISRAEL TETTEH APPIAH
OBOM DOMEABRA
1. HON. SOPHIA KAREN ACKUAKU
2. SAMPSON NII TACKIE
3. JOHN PADMORE FIAGBOLO
4. ROBERT KWAKU AHORDAGBE
KPONE KATAMANSO
1. CAPT. MOSES TETTEH LARNYO
2. JOSEPH AKUERTEY TETTEY
3. RUDDOLF K SEBUABE
4. ABRAHAM T TEYE
5. LAWSON KWASHIE KUDZORDZI
WEIJA/GBAWE
1. NII SAKA ALLOTEY
2. CLELAND AYAA AYISON
3. SHAIBU AMADU
NINGO PRAMPRAM
1. MICHAEL TETTEH KWETEY
2. HON. SAM GEORGE NARTEY
ASHAIMAN
1.HON. ERNEST NORGBEY
2. EMMANUEL MAX-VOY
3. SEGBENE XENODZI FERGUSON
ABLEKUMA WEST
1. REV. KWEKU ADDO
2. PRINCE DERICK ADJEI
3. MARIAN KORKOR AYERTEY
ADENTAN
1. MAHAMMED ADAMU RAMADAN
2. NANA OYE LITHUR
3. BEJAMIN ANGENU
ABLEKUMA NORTH
1. WINIFRED ASHLEY
TEMA EAST
1. EDWARD NII TETTEH BEDIAKO KRAKU
2. HON. ISAAC ODAMTTEN
DOME KWABENYA
1. ISRAEL NORYIBEY
2.FAUSTINA ELIKPLIM AKURUGU
3. JOHN KWAKU AGBAVOR
4.GODSON NII AYIJAKU TACKIE
ABLEKUMA SOUTH
1. HON ALFRED OKOE VANDERPUIJE
2. ALBERT PANGBOAT NAMBALIN
3. EPHRAIM NII TAN SACKEY
4. NII AYITEY TAGOE
ABLEKUMA CENTRAL
1. BABA LATIF DAN
2. ALHAJI HALIDU HARUNA
3. SAM NARTEY FOLI CREPPY
BORTIANOR/NGLESHIE / AMANFRO
1. ALEX ACKUAKU
2. FELIX AKWETEY NII OKLE
3. ADAMS DICKSON ABU SKEDEY
4. PETER NANA ASIEDU
5. ALFRED NII COMMEITTEY OGBAMEY
6. ERIC SOSU
7. ANTHONY YESUTOR KUAGBENU
8. SHERIFF NII OTO DODOO
9. ZAKARIA MOHAMMED ALI
OKAIKOI NORTH
1. MALIK ADAMA
2.ABDUL NASHIRU ABBAS
3. RICHARD KWASHIE KUDZORDZI
4. THERESAH AWUNI
OKAIKOI SOUTH
1. ISAAC MENSAH
2. DAVID FRIMPONG
3. ABRAHAM KOTEY NEEQUAYE
MADINA
1. FRANCIS XAVIER SOSU
2. SIDI ABUBAKAR
3. ALHAJI FAILA
4. RUKAYA ABUBAKAR
OKAIKOI CENTRAL
1. NADIN ISSAH SALIFU
2. LAWYER KOJOGAH ADAWUDU
3. DELALI AYIVI
4. ABDUL RASHID ISSAH
KLOTTEY KORLE
1. HON. ZANETOR AGYEMAN RAWLINGS
2. LEEFORD QUARSHIE
3. NII ALEMA BASHIRU
4 .NAA ODARKAI LAMPTEY ADDY
ANYAA SOWUTUOM
1. MAMOUDU AMADU
2. IBRAHIM AMADU
3. IRENE MENSAH
4. EMMANUEL ALLOTEY
LA DADEKOTOPON
1. HON. RITA ODOLEY SOWAH
2. HAROLD R THOMPSON
3. JAKE KWEI ADJEI-KWEI
4. JOHN FIIFI MONEY
ODODODIODOO
1.HON. NII LANTE VANDERPUIJE
2. SPACE OKOE CLOTTEY
ADA
1. HON COMFORT DOYOE CUDJOE GHANSAH
2. CHARLES TEYE McCARTHY
3. CATHRINE DELA DZIVENU
4. THOMAS BOYE-DOE BROWN TETTEH
TEMA CENTRAL
1. CARL OWUOMPESKA
2. EBI BRIGHT
3. SEDINA MATANAWUI
4. JERRY ADJEI
5. NANA YAW OKUTWERE NKANSAH
SEGE
1. HON CHRISTIAN OTUTEYE
2. DANIEL KESHI BESSEY
AYAWASO EAST
1. HON NASER MAHAMA TOURE
2. DR. YAKUBU AZIDOW
3. HON. OTCHERE DARKO
LEDZOKUKU
1. BEN AYIKU
2. BENITA OKITY-DUA
3. SETH ATTOH MENSAH SOWAH
TEMA WEST
1. DR. RAPHAEL KWASI SARPONG
2. WAKEFIELD ACKUAKU
3. RASHID ISSAH
4. ROMEO AKAHOHO
AYAWASO CENTRAL
1. WILLIAM AFFUM ANI-AGYEI
2. VICTOR QUARSHIE ADONOO
3. EMMANUEL SOSU
4. ABDUL RAUF MUSAH
AMASAMAN
1. PRINCE WORMENOR
2. EBENEZER NII ARMAH TACKIE
3. HON. NII OKAI LARYEA
4. SEDEM AFENYO
5. WILLIAM AHAMADZI
6. HAJIA MARIAM DZIFA IBRAHIM
AYAWASO NORTH
1. HON. MAJOR (RTD) DR. MUSTAPHA AHMED
2. HON YUSSIF JAJA
TROBU
1. EMMANUEL A. GBEDEMAH
2. EMMANUEL KOJO MENSAH
AYAWASO WEST WUOGON
1.JOHN DUMELO
2. SUZZY AFUA ADOBOE
KROWOR 
1. AGNES NAA MOMO LARTEY
2. EDGAR NII KPAKPO ADDO
Source: Citinewsroom