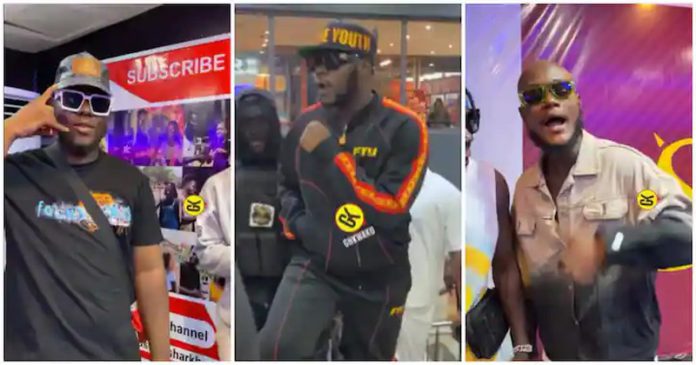 At the movie premiere of actress Fella Makafui's 'Serwaa' series, a group of Ghanaian celebrities' lookalikes made a grand entrance, causing a stir among attendees.
The event, held at the Accra Mall, became even more lively when Ghanaian blogger GhKwaku spotted the lookalikes and approached them for a quick interview.
The video capturing this encounter quickly went viral, capturing the attention of many social media users. In the footage, Robest GH, who bears an uncanny resemblance to King Promise, confidently stepped up to the camera to deliver a playful message.
He humorously announced their arrival, stating that they had come not only to claim Medikal's female fans but also to let Fella and Medikal know about their presence at the premiere.
The video elicited mixed reactions from Ghanaians. Some viewers expressed excitement and fascination, marveling at the striking resemblance between Medikal and his lookalike.
They found the encounter amusing and enjoyed the lighthearted banter. However, others voiced their dissatisfaction with the outfits worn by the celebrity lookalikes, criticizing their choice of attire.
Overall, the unexpected appearance of the Ghanaian celebrity lookalikes brought an added dose of excitement and entertainment to Fella Makafui's movie premiere.
Their presence added an element of fun and humor to the event, sparking conversations and fueling the imaginations of fans and onlookers alike.
ALSO READ:
Massive reaction as Kuami Eugene's lookalike performs musician's songs at event
Mr Drew's encounter with his lookalike at event
Hilarious encounter: Black Sherif's lookalike leaves Ras Nene confused