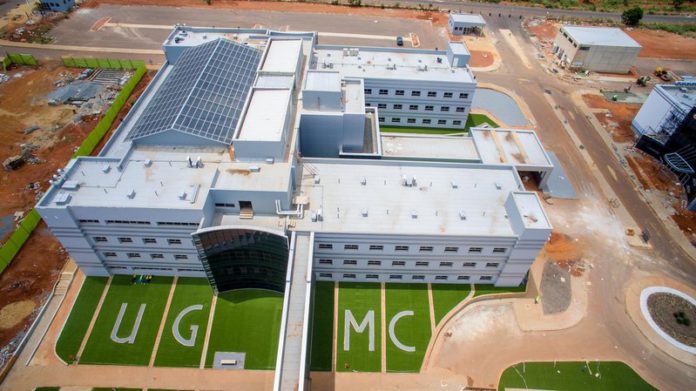 The University of Ghana Medical Centre (UGMC) has officially commenced work as part of the second phase to expand and scale up operations of the referral facility.
The commencement of work follows a parliamentary approval of a 47 million Euro loan in 2018 to complete the project.
Dr Darius Osei, Chief Executive Officer of UGMC, announced the continuation of the project when he addressed a section of media at an induction ceremony of newly employed staff of the facility.
ALSO: Why I left Bullet's Rufftown music label – Ms Forson spills bean [Video]
"The hospital is just not for treatment and diagnosis but we must have hotel services in place so our catering, laundry, plumbing and all other support systems must be in place and there must be training for them.
"If I don't have the right personnel, it will become an ordinary polyclinic so we should be able to identify where the specialists are and bring them with special arrangements to help them administer the support we need," he said.
ALSO: No more projects on Aburi mountain – Roads Minister
Speaking on when the hospital will begin full operation, he said "the full operation will be gradual so cardiovascular and open-heart surgery as well as neurosurgeon units are expected to be completed in 2020."
ALSO: Confession rocks 'wee' incidence in Obofour's church as 'wee smoker' speaks [Video]
The first phase of the UGMC project, an Israel loan and Ghana government funded project which was expected to be fully operational by July 2017, houses different specialised centres, such as emergency, imaging, operating theatres and laboratories.
The second phase to add 30 beds to the facility will provide specialist facilities, including heart and cancer treatment and rehabilitation centres and a hostel for families of patients.
Source: Adomonline.com | Gertude Otchere