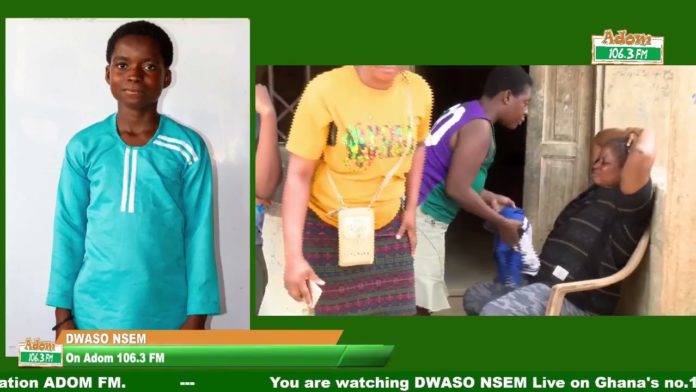 Residents of Amasaman have been thrown into a state of shock after a 12-year-old boy was reportedly murdered and had his tongue removed in a gruesome manner.
Peter Osafo, the father of the victim, Justice Akakpo Mensah, recounted the incident in an interview on Adom FM's morning show, Dwaso Nsem Wednesday.
Mr Osafo explained that the unfortunate event took place last Sunday while they were getting ready for church.
He said: "I was cooking with him, and I asked him to sweep while I attended to the food. He was sitting beside me, and whenever I needed him, I would call him. I didn't even see where he went. The food was ready, but he was nowhere to be found."
His concern grew when they realised that time was passing without any sign of Justice.
Mr Osafo continued: "Around 3pm, we started to panic and initiated a search for him."
During the search, another group alerted them to the discovery of a boy's body wrapped in a sack.
Mr Osafo said: "While searching, we were informed about a body found with its tongue removed, wrapped in a sack near Pokuase. We hurried to the police station, and they confirmed it to us. Later, we went to the location where the body was found, and a man informed us that some individuals had dropped the body behind someone's house. Fortunately, a man had seen the vehicle that dropped the body and took a picture of it. We later realised that it belonged to our neighbours."
Mr Osafo expressed disbelief as he stated that he had no issues with the neighbours and that they were in good terms with his family. He wondered why they would commit such a heinous crime and kill his son.
When the police showed him pictures of his son, Mr Osafo saw that Justice's tongue had been removed, and he was wearing the same shirt he had last seen him in.
The main suspect in the case is the neighbour, who, when confronted, claimed that one of his sons accidentally shot Justice while they were playing.
Mr Osafo found this explanation implausible since they hadn't heard any gunshots, given the close proximity of their houses.
Mary Essirifi, the mother of the deceased, who could not hold back her tears, during the same interview mentioned that they had a close relationship with their neighbours, who would often buy foodstuffs from her.
She said, "my son would frequently go there to help them with their animals, and they were regular customers of mine. We had no issues with them, so why would they brutally kill my son?"
Currently, the neighbours and their entire family have been apprehended by the police and are being held at the Criminal Investigations Department headquarters for further investigations.
ALSO READ: