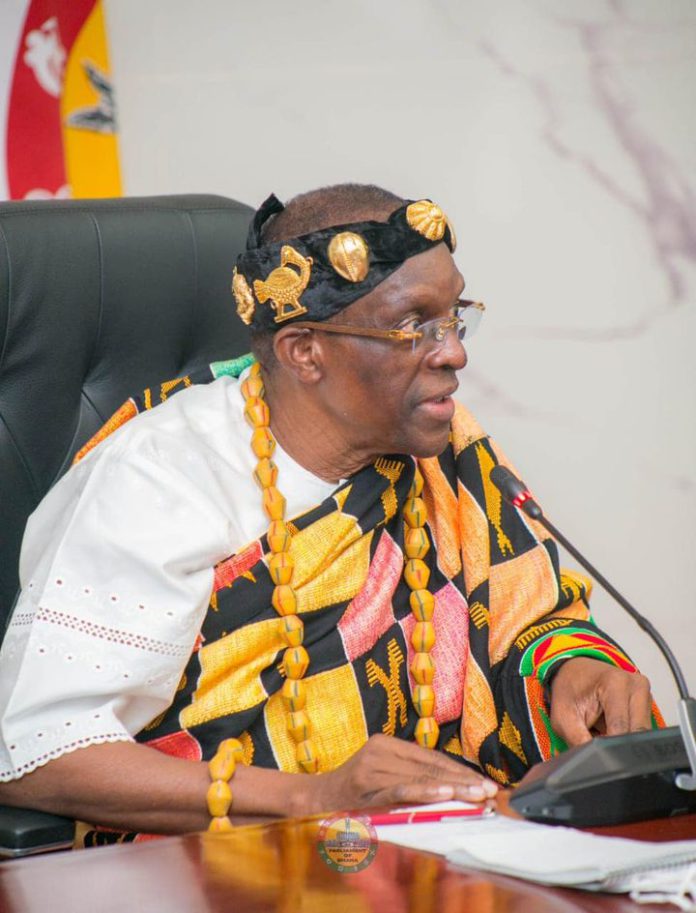 Speaker of Parliament, Alban Bagbin, has been installed sub-Chief of Awudome in the Volta region.
Mr Bagbin will serve under the title Togbe Nutefeworla Awudome I.
The Chiefs and people of Awudome Traditional Area in the Volta Region honoured the Rt. Hon Speaker Alban Sumana Kingsford Bagbin, as Togbe Nutefeworla I for his contribution to national development during the AWO Festival in 2022.
The Paramount Chief of the Awudome Traditional Area, Togbega Addai Kwasi Dzani XIII, led a delegation of sub-Chiefs and Queens to formally introduce the Speaker on Monday.
Togbega Addai Kwasi Dzani XIII expressed his gratitude to Speaker Bagbin for accepting their invitation to attend the Awo Festival as a special guest of honour in 2022.
He praised the Speaker for his integrity and unique sense of impartiality, which kept democracy at peace.
The Paramount Chief called on Speaker Bagbin to maintain his balance in the supreme interest of Ghana, and expressed the desire of the people of Awudome to build an everlasting relationship with his character and integrity which called for the highest honour of Awudome to be bestowed upon him as "Man of Integrity".
Addressing the delegation, Speaker Bagbin expressed his deepest appreciation for the delegation's presence and thanked the Chiefs and people of Awudome for the invitation and honour.
ALSO READ:
Speaker Bagbin warns Ursula Owusu
He assured them of his continuous commitment to impartiality and serving the people of Ghana with dignity and honour.
He emphasised that impartiality gives honour and dignity to the House and expressed his pleasure at having the delegation present at the humble ceremony led by the Togbega himself.
In attendance at the ceremony were Members of the Parliamentary Service Boards, Members of Parliament and Staff of the Parliamentary Service.