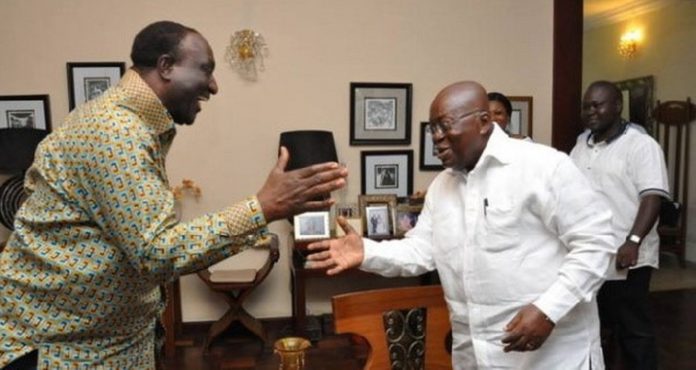 Immediate past Minister for Trade and Industry, Alan Kyerematen, has revealed he has a very good relationship with President Nana Akufo-Addo.
According to him, they have been good friends and will forever remain so.
The 67-year-old said this when he declared his presidential intentions in a national broadcast on Tuesday evening.
Recounting their fierce competition years back in their quest to lead the New Patriotic Party (NPP) as flagbearer, Mr Kyerematen stated that has not divided them.
Instead, they have continued to work together due to their shared commitment to the ideals and principles the NPP was founded on.
"His Excellency the President, Nana Addo Dankwa Akufo-Addo has been a good friend of mine and will always remain so based on our shared commitment to the ideals and principles that inspired the founding fathers of our great Party, the NPP.
"We have competed in the past but have always worked together thereafter," he said.
The man affectionately called 'Alan Cash' expressed his appreciation to the President for the opportunity to serve the people of Ghana.
About five leading members of the governing NPP including former Energy Minister Boakye Agyarko, Agric Minister, Dr Owusu Afriyie Akoto and former General Secretary Kwabena Agyapong have all expressed interest in contesting the flagbearership slot of the party.
ALSO READ:
Alan Kyerematen officially declares intention to contest NPP flagbearership race
Time for others to sacrifice for me to lead – Alan Kyerematen
Akufo-Addo heaps praises on Alan Kyerematen
Many have also tipped Vice President Dr Mahamudu Bawumia for the position but he is yet to officially make his intentions known.
Mr Kyerematen, who said he believes he will be a transformational leader, and Dr Owusu Afriyie have since resigned from their respective positions.