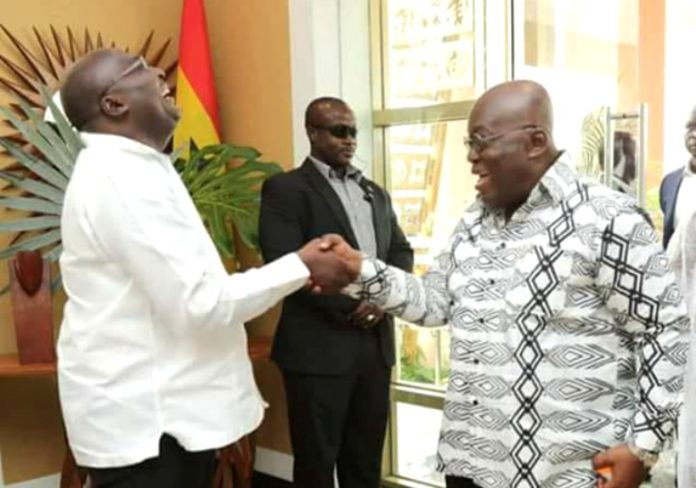 President Nana Akufo-Addo has rejected allegations that the government has thrown its full force behind Vice President Dr Mahamudu Bawumia in the New Patriotic Party (NPP)'s presidential primaries.
The president said the claims are false and being made maliciously.
According to him, there is no single person in the party who can say he (President Akufo-Addo) has asked him or her to support Dr Bawumia.
At a meeting with communicators of the party at the Jubilee House on Wednesday, August 2, the President was emphatic he has no intention of imposing anyone on the party.
"…Again, the assertion that the government is allegedly intimidating or coercing party faithful to throw their support behind one of the aspirants and we have to be open about it and the allegations that the government is putting all its authority behind the Vice President, I want to say in very claim terms to you and to the whole world that it is a very false and malicious narrative, and there is not a single truth to it.
"That is why I can beat my chest and I can say without any fear of contradiction, that there is not a single person in the NPP who can say that I had asked him or her to support this or that aspirant."
So far, 10 persons have been cleared to contest for the party's upcoming presidential primaries.
Notable amongst these persons are Vice President, Dr Mahamudu Bawumia, former Trades and Industry Minister, Alan Kyeremanten, former Agriculture Minister, Dr Owusu Akoto Afriyie, and the former General Secretary of the party, Kwabena Agyapong.
The party will hold a Super Delegates Congress on Saturday, August 26, to reduce the numbers to five.
However, there have been some accusations that the government is supporting the candidacy of the Vice President, hence the president's comments.
ALSO READ: