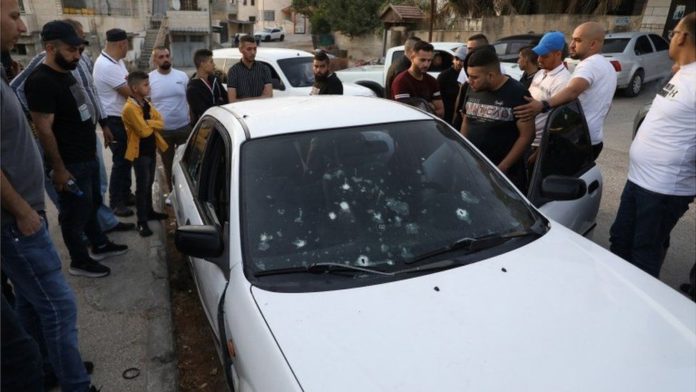 Three Palestinian militants have been shot dead, Palestinian officials say, after armed clashes with Israeli troops in the occupied West Bank.
The Israeli military said its forces returned fire "to neutralise" occupants of a car who had shot at them.
The incident in Jenin is the most serious of its kind for weeks, as Israel carries out near daily raids following a wave of deadly attacks.
Two Palestinians who committed recent killings came from the Jenin area.
Seventeen Israelis and two Ukrainians have been killed in shootings, stabbings, car-rammings and an axe attack in Israel and the West Bank since late March.
Dozens of Palestinians, including the attackers, have been killed in confrontations with Israeli forces since then.
READ MORE:
Witnesses have told the BBC the Israeli army was carrying out a search raid in Jenin's old town on Friday morning and that there were massive exchanges of gunfire between them and Palestinian militants.
The Israeli military said that as troops moved on from one location the occupants of a car at the side of the road opened fire. All those in the car were killed.
Local sources told the BBC that all three men were members of militant groups in Jenin.
The militant Islamist group Hamas said one of the men was a field commander in its military wing. It warned the "cowardly assassination… will not go unpunished".
The Israeli military said soldiers found two rifles, a submachine gun and ammunition in the vehicle.
Following the incident "fierce clashes" erupted which left 10 Palestinians wounded, the official Palestinian news agency, Wafa, said.
Israel said its forces did not suffer any casualties.