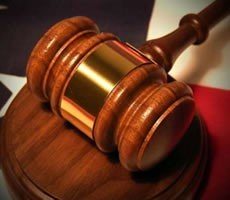 There was drama at Ashaiman Circuit Court when a dismissed military officer from the First Battalion of Infantry, Michel Camp, in Tema, who is on armed robbery charges, acted in a bizarre manner.
Whereas sources said the accused – Foster Sackey – feigned 'madness' in order to escape, others claimed he was suffering from mental illness.
Immediately the police brought him to the premises of the court, the suspect started moving around and at a point attempted to undress himself when he was called to mount the dock.
His strange behaviour prompted the court, presided over by Gabriel Martey-Tei, to order the prosecutor to send him to a psychiatric hospital to assess his mental status.
Foster, who is also being investigated by the EMEFS Police for a similar robbery offence, was remanded in police custody to reappear on April 4, 2019.
According to Assistant Superintendent of Police (ASP) Akwasi Ahenkrah Afrifa, on February 23, 2019, at about 2:25pm, Foster allegedly robbed a public health officer – a resident of Ashaiman Lebanon Zone 5.
The complainant, Shem Gbedzi, was walking from Community 22 extension towards military farmland behind ROHI School Complex and decided to attend to the call of nature; hence he rushed into a nearby bush.
While the complainant was defecating, the accused person emerged from the bush and attacked him at gunpoint. He ordered him to collect the faeces with his hands and eat it, but he refused to comply with the order.
The accused person then subjected the complainant to severe beatings; he dragged him to a nearby junction where he forced him to kneel down.
He then took his Infinix X527 mobile phone valued at GH¢750.00 and an amount of GH¢86.00 from his pocket and gave them to the accused at gun point.
After the alleged robbery, the accused ordered the complainant to be on his knees until 5:30pm since he was going to bring his fellow soldiers to come and send him to Michel Camp Barracks for further punishment but he never returned.
When the complainant later placed a call to his mugged mobile phone, the accused person received the call and asked the complainant to give out his pin code to his mobile money number else he was going to sell the phone.
The victim then lodged a complaint with the Tema Community 22 Police, who initiated investigations into the matter.
While investigation was ongoing, intelligence was gathered that the accused had been arrested and detained at EMEFS Police Station for a similar offence.
During investigation, it turned out that he was dismissed from the Ghana Armed Forces based on a series of theft cases.
Source: Daily Guide