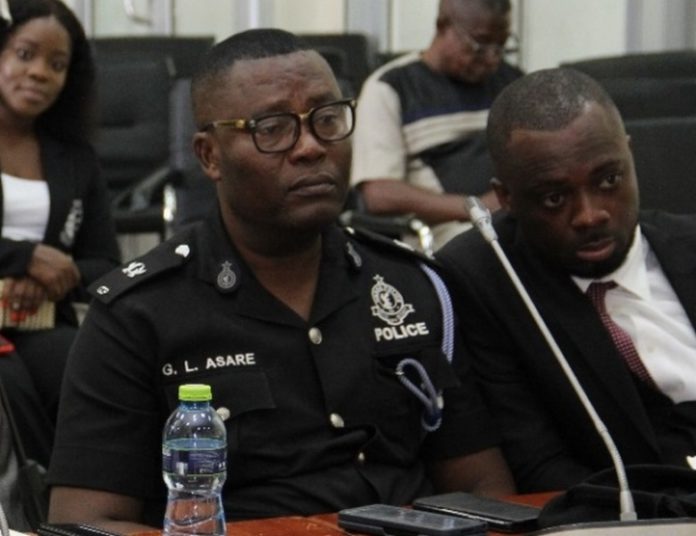 Lawyer for Superintendent George Asare, one of the police officers implicated in the alleged conspiracy to remove the Inspector General of Police, Supt George Asare, has welcomed the decision by the police administration to suspend the interdiction of his client.
Alfred Papa Darkwa said they are awaiting official confirmation from the Police Service.
"We welcome the decision by the police administration to suspend the interdiction of our client and the other officers. In fact, the suspension of the interdiction should not have occurred in the first place. We are now awaiting further developments as Parliament has taken over the investigation of this matter" he said in an interview on Adom FM's morning show Dwaso Nsem, Friday.
Regarding the well-being of his client, lawyer Darkwa said "My client is in good health, but, like any human being, he may have been demoralized by the events. However, he is generally fine."
On the way forward, the counsel said they have been informed to appear before the committee on Tuesday, and all proceedings will be conducted in camera.
On Thursday morning, the Ghana Police Service issued a press statement announcing the interdiction of three senior officers due to their involvement in a contentious audio recording, which is currently under parliamentary scrutiny.
However, in a surprising turn of events on the same day, another press statement dated September 7, 2023, revealed the suspension of the interdiction.
The explanation provided was that, the suspension aimed to avoid prejudicing the ongoing Parliamentary probe.
Supt Asare on why his white apparel was ready for celebration after meeting Bugri…
Bugri Naabu said he recommended Dampare to Akufo-Addo for IGP job – Supt Asare
Supt Asare drags another police officer into IGP leaked tape saga