'Big Dragon' is ready to blaze the music industry with music from different genres and it's no other musician than soothing singer Efya.
She is not re-branding her music career but only introducing another part of her she claims to have been hidden for so long a time.
Taking to Twitter on Thursday to let the cat out of the bag, Efya, born as Jane Awindor, introduced 'Big Dragon' saying:
"I have always believed there was two of me… since I have quite the character change sometimes … but there was always a part of me that I was afraid to show … due to standards that has been set for Efya… The Queen."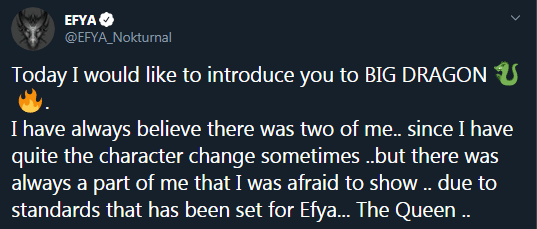 Describing further, she continued, "and I love her she has come so far… and is still going … but she wants to share with u… another part of herself. 'Big Dragon' has no boundaries when it comes to the music. She sings it as it comes from within the soul, from the tears and the pain and the joy and the hurt."

According to Efya, she doesn't want her brand Efya to conflict with that of 'Big Dragon' because her alter ego has no chains or bonds to keep her in check.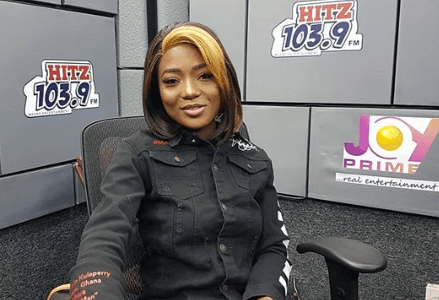 "That part of me that has been sheltered… I want to let her free to sing her jazz!! Free to sing her soul and melodies that feel like air … I like that girl .. she's something else … So come with me on the journey.. I must say I'm scared and excited at the same time," she posted.
She further asked fans to continue to support her as she undertakes this daring experience.
"But I am ready to show u all of me.. and Efya is excited too to show u her other side I think everyone should be able to advance as we grow into all we want to be. Thank u for the love and support. This year I'm letting all the music go. I hope u love her as much as u love me," she ended the thread.

When Efya started off with series of tweets on Thursday morning, many of her followers were thrown into a state of shock as many of them presumed she was closing her chapter of doing music.
She thanked industry players, fans, institutions and gatekeepers who aided the growth of her brand Efya.
"Morning darlings… can we talk? I got a lil something to share with you all … So over the years the brand Efya has become a household name in the Ghanaian entertainment industry. Thanks to the fans … Charter House, One Nation Record's; Radio And TV Stations.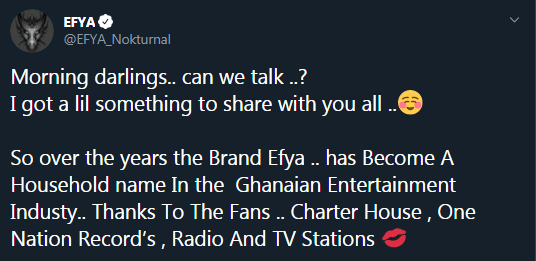 "There would be no Efya with out the fans who have loved me worldwide…till today. U bless me with your love and support… I won't stop," she noted.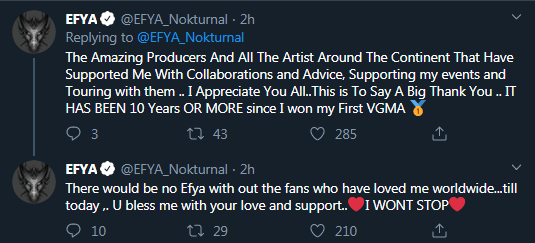 Meanwhile, Efya climaxed her 'Big Dragon' introduction with a new song which is yet-to-be released.
"@BIGDRAG71198001 drops her first song tomorrow. 'Fracture' produced by @kuvie_. We move. Follow @BIGDRAG71198001 thank you," she said.

Nonetheless, some fans lauded her for embracing her true self and breaking barriers forbidding her from climbing up the ladder.
Read some of their reactions below: