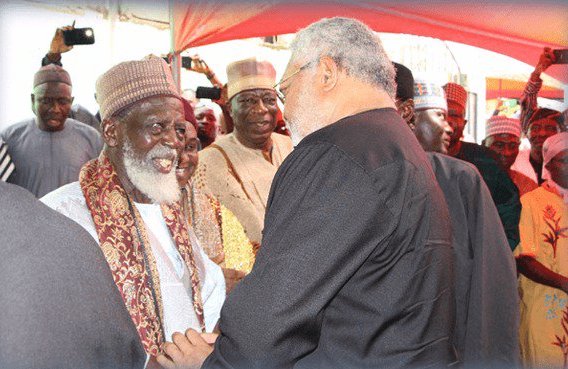 Former President Jerry John Rawlings has said the National Chief Imam's wisdom and "strong sense of purpose" have contributed significantly to the country's peace and stability.
In a tweet Tuesday, the former leader in a glowing tribute said, "Sheikh, you are revered across the religious divide for your good leadership, wisdom and strong sense of purpose."
ALSO READ: Editorial: Killing in the name of religion is 'nonsense', the world must learn from Ghana
Mr Rawlings could not hide his admiration for the man who "hardly speaks but when you do, it evokes only wisdom.
"I pray for Allah's greatest blessings as you chalk one century on this earth…May your life continue to impact positively on Ghanaians," he added. 
READ: Audio: I'm running mad – Mother of kidnapped girl cries
Happy 100th Birthday Sheikh Nuhu Sharabutu, National Chief Imam… pic.twitter.com/aQX4GiMcHd— Jerry John Rawlings (@officeofJJR) April 23, 2019
Many Ghanaians have commended the National Chief Imam for worshipping with Christians at the Christ the King Parish, in Accra, on Easter Sunday ahead of the celebration of his 100th birthday.
"He is simply phenomenal – Sheikh Nuhu Sharubutu!" a middle-aged Christian woman said.
READ: John Mahama will be impeached over free SHS if … NDC man
"Over the years he's impressed us with his quiet but imposing demeanour – always speaking wisdom, always choosing the way of peace and love and encouraging his followers to do same," another person said.
His visit to the church has got the world talking with the BBC streaming the video as it debates Ghana's interreligious tolerance and peaceful co-existence feat. 
READ: Child Rights Int. to sue police over kidnapped Takoradi girls
This comes at a time when across the world, Muslims and Christians are being killed while in worship by people who are intolerant of other religions. 
Social media is awash with good wishes as thousands of Muslims, Christians and other faith-based religions keep wishing him a great day and long life.