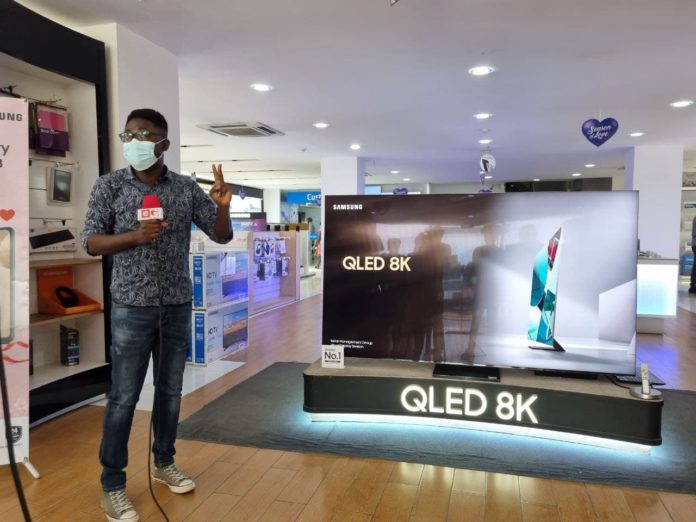 If you've been following the Consumer Electronics Show (CES), you probably know that almost every year, since 2016, Samsung TVs have been winning awards in the TV, audio, home appliances, mobile and semi-conductors, so it's no surprise that they'd want to show off their new TV technology.
I've had people tell me, "when you take a picture on a Samsung phone, it looks good on the phone, but look at it on your computer or another phone (like an iPhone) and it doesn't look as good."
The answer is simple. Most phones use LCD screens which can't produce colours as deep and rich as OLED screens which are found in most Samsung phones.
Ergo, the scren on which you view or read content matters.
So what's LCD, LED, OLED, AMOLED and now QLED?
About a decade ago, TV buyers looking for a "flat-screen" TV asked the question "LCD or Plasma?"
Now plasma has been removed from the vocabulary of TV buyers (It's extinct), so pretty much every TV sold today is based on good old LCD (liquid crystal display) technology.
All so-called LED TVs are really just LCD TVs that use LEDs (Light Emitting Diodes) for their backlight. This backlight creates the light that allows the LCD to create an image. However, there are multiple ways these LED backlights can be arranged, and that arrangement can have a dramatic effect on picture quality, and that's basically all there is to it.
OLED, on the other hand, stands for Organic Light Emitting Diodes. OLEDs work by putting electricity through certain materials that glow. What this means is that each dot/pixel can be shut off, for an absolute black and producing better images.
So to simplify things, LCD, LED and QLED are LED-backlit LCD TVs, and OLED and AMOLED are pure LED TVs.
Now that that's out of the way, I know most people would say then OLED is better, but is it?
Let's talk about QLED
No brand seems as flat-out obsessed with unlocking the potential of display technology as Samsung.
Over the past few years, the Korean brand's engineers have stopped at nothing to make their LCD TVs deliver more brightness, colour and colour volume (the application of brightness to colour) that High Dynamic Range (HDR) pictures thrive on.
Samsung has dubbed its latest step in the HDR arms race 'QLED': What this means is that it uses a metallic quantum dot filter to enhance both the color and contrast of the screen significantly boosting the capabilities of HDR and 4K images compared to other non-quantum dot LCD-LEDs.
The effect, blacks appear darker and the whites are brighter because there is no colour overlapping or merging of details, helping produce the true-to-life UHD effect.
Samsung boasts that the technology allows for darker blacks and brighter whites, and brightness levels between 1,500 and 2,000 nits can be expected from the televisions. The TVs are said to also be first in the world capable of producing 100 percent colour volume.
With all that technical jargon out of the way, I must say, the TV does do as they say it will.
I remember my first experience with the QLED TV, I watched Bob Pixel's "Ghana in 1 billion colours" play on the 75-inch QLED screen and marveled at how I'd never appreciated how good Ghana looked.
From every angle, the colours remained the same, meaning no more fighting for that "sweet spot" in front of the TV, everyone enjoys the same experience.
And even at full brightness, in a brightly lit room, you could tell the TV wasn't under any pressure to impress.
All this is made possible by a similar technology used to control most smartphone's screen brightness when in bright sunlight. Known as an Ambient Light Sensor, it detects the amount of light in the room and adjusts the screen's display to give you an optimal viewing experience.
Samsung also developed a new technology of backlighting called Direct Full Array, that precisely controls the lighting behind each image to ensure that dark areas are as dark as they're supposed to be and lit areas are lit with pin-point accuracy.
Most TVs today are only capable of displaying a maximum of 4K resolution, which is 4 times what the Full HD TVs brought us. The 2020 QLED TVs on the other hand are capable of 4 times the 4K resolution, branded with the moniker 8K. Most people would say 8K technology isn't ready now, but my S21 Plus begs to differ. Smartphones are already capable of shooting in 8K resolution, which makes it imperative to have a display that's capable, hence the 2020 QLED TV's being fitted with that just means, you're ready for the near future. I don't think we're ready to be switching televisions as we do our phones, some annually, some biennially.
Also, the new 8K TVs are capable of upscaling content to fit the 8K resolution. So if the content you're watching wasn't shot in 8K, there's no need to worry, Samsung's new AI-enabled Quantum Processor 8K, will automatically adapt the visuals to fit the new resolution with no loss of detail.
It manages to maintain textures, reduce noise in the image and maintain the original quality with the help of a huge database of content, machine learning and a neural network-powered deep learning procedure to correct the image pixel by pixel.
In simple terms, there's a computer in the TV whose sole purpose is to ensure that everything you see on the TV is as beautiful as its intended to be.
Which brings us to one technology that's been developed to give us content as it's intended to be by the directors who shot them.
You've probably heard of HDR (High Dynamic Range) or seen it on your phone or current TV.
The video below shows you the difference between normal video and HDR quality video.
Now you've seen the difference, and the improvements.
So on a standard display everything below a certain brightness is the same shade of black, an HDR TV's goes further, allowing you to tell the difference between something that's really really dark, and something that's just dark. (Go watch a horror movie and you'll be able to tell the difference immediately.)
HDR10+ technology takes that to another level. Metadata is stored in the content you're consuming that tells the TV exactly what needs to be bright and what needs to be dark and at what levels. It's like controlling the imagination of people when you're telling them a story so they can visualize it the same way you experienced/imagined it.
Sound
What's a good TV without great sound?
The 2020 QLED TVs come fitted with some awesome audio technology. My personal favourite is the Object Tracking Sound+.
Imagine watching any Fast and Furious movie and anytime a car moved from one side of the screen to the other, the sound moved with it. Very rarely do you get such an immersive audio experience from the measly in-built speakers on any TV.
The 2020 QLED TVs come with 6 speakers firing from all sides, the top and the bottom, following object movements in each scene and creating the aural illusion that you're right there in the action.
Living around the airport, there is one thing that really gets to me and its that moment that an airplane takes off. Whatever dialogue is ongoing on the TV is lost thanks to the loud roaring engines of the airplane flying over. This problem, Samsung says they have a solution for.
The Active Voice Amplifier intelligently increases, specifically, the volume of speech and voices in the scene and not the overall volume, to ensure you don't miss anything that's said while you're watching the TV, and as soon as the noise is gone, it reverts to normal.
Design
Good design is not just about how a product looks on the surface, but also how it fits into consumers' lives. With that said, let's talk about the new Samsung QLEDs design.
Unlike the previous models, when you walk up to the 2020 QLED TV, the first thing you notice (or not notice) is the almost invisible bezel, the frame that usually surrounds the screen is so thin, if the TV was mounted on a wall, it would just merge with it.
Samsung calls this the infinity screen.
For comparison, the TV on the left, is the 2017 generation QLED TV and the on on the right is the latest. Notice the difference?
Mounting TVs on the wall has always been an arduous task, and to ease this, the new QLED TVs come with the no-gap wall mount, which, as the name suggests, leaves no gap between your TV and your wall, creating the illusion of a framed picture hanging flush against your wall. Combined with the previously mentioned thin bezels, you should be ready to surprise your guests when the TV comes on.
It gets better. With Ambient Mode, you can turn your QLED TV into a work of art, by displaying selected photos from your photo album, curated artworks or even match your mood by playing selected music and video. This is all done using AI tech that analyzes your wall to let the screen blend in, effectively becoming invisible.
Samsung actually made a TV to achieve this purpose. The Frame, a TV that looks like a picture frame.
Instead of a big ugly black rectangle hanging on the wall, this TV looks like a painting, a framed photo or other wall art.
It's what you can call a revolutionary way to think about your TV. When you're not watching the brilliant 4K UHD TV with HDR, it turns into a beautiful work of art on your wall, with pre-installed art images to suit every mood and style. If aesthetics is your thing, The Frame is definitely for you.
The Invisible Connection
Speaking of invisibility… With all new home-technology comes a new connection to your TV, your BluRay player is connected to your TV, your PS5, your Xbox, your Multi TV, DSTV, or GoTV, etc. The illusion mentioned earlier would be defeated with all these cables sticking out from the corners of the TV.
In its bid to make its QLED TVs more aesthetically pleasing, Samsung took this salad of cables and created an "invisible connection" to handle this ugly and dusty situation.
The solution is a thin, translucent optical cable that connects your devices to what Samsung calls the One Connect box. It allows you to tuck everything out of sight ridding your home of ugly, dusty cable salad.
For those who wish to set their TV on a table, the QLED TV stand still allows for the use of the invisible cable, by piping it through its stand.
A Truly Smart TV
With the ever-increasing number of entertainment options ranging from digital and satellite TV to streaming services and game consoles, consumers have numerous choices when it comes to television.
The 'Smart Hub' interface, is one differentiating factor that's sure to influence the buyer's choice. It combines your live TV channels, your decoder/satellite TV channels and even IP TV channels, and shows them in an intuitive manner, allowing you access to all your channels without always having to switch sources.
We all know we can share content from our phones to our TVs, but did you know you could do it the other way around?
Yes, you can now beam content from your TV to your phone so you can take that football game anywhere in your house without interrupting the kid's cartoon. Impressive, huh?
You can enjoy TV and mobile screens together, dividing the screen into two parts. Watch TV on the left screen and mirror an app on the right screen.
Oh and you can just tap your phone to the TV to connect.
In Ghana, Electroland Ghana is offering its QLED TV owners subscriptions to ZipTV & Showmax bundled with their purchase.
One Remote to rule them all
A TV that's able to combine all your TV sources into one is good, but a remote that combines all your remotes into one is even better.
With more than the mission of reducing the number of remotes on your centre table, the One Remote Control is able to automatically detect and control almost all devices connected to the one connect box. It even displays them with instantly recognizable icons and names.
Plus, it comes with voice control.
Gaming
I'm a gamer, and there are some reasons why I always choose a gaming monitor over a TV when gaming.
Dynamic contrast: I believe the QLED checks this box as I've mentioned earlier.
FreeSync: The 2020 QLED Tv comes with AMD Freesync.
High Refresh Rate: Game Motion+ has that sorted out
Surround Sound: I've already explained the TV's impeccable surround sound features.
Lag: Input lag has been enhance by 35% thanks to Auto Game Mode
Finally, Samsung has Game Multi-View that lets you watch a walkthrough on YouTube while gaming! How cool is that?
I remember having to pause playing Darksiders because I didn't know where I was going. Now, I can do both simultaneously.
Conclusion
To wrap it all up, Samsung's claim to have made the best TV yet is hard to fight. I would've argued that OLED had the best image quality because of its ability to produce absolute black, but there was a limitation to that, OLED TVs are limited in brightness and that's where QLED TV literally shines brightest.
The Samsung QLED TV transcends the technology it is based upon. Yes, it's an edge-lit LED-LCD TV. But Samsung sees QLED as a distinct product category because, as a whole, it offers a level of performance that was previously unimaginable for a TV of its type.
Its ability to get bright, reproduce vivid colour, and calibrate accurately means the QLED can reproduce HDR content as it was intended to be viewed. This TV easily exceeds the specifications required for its UHD Premium certification and consequently provides viewers with an experience that's remarkably faithful to whichever film director's intent.
In short, it does extremely well.