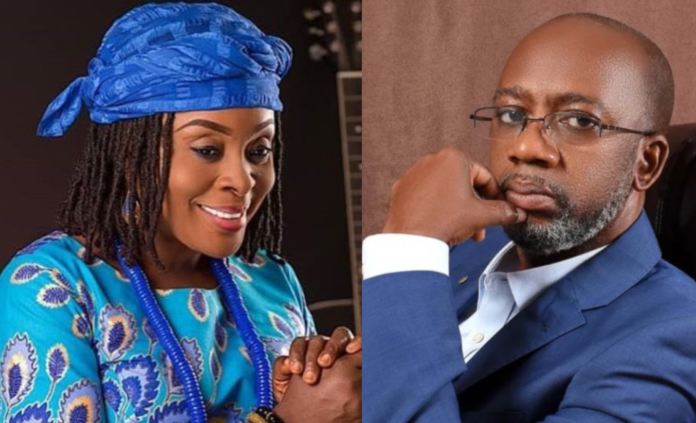 Ace Anan Ankomah, counsel for highlife musician Rex Owusu Marfo, popularly known as Rex Omar, has written to singer Akosua Agyapong over several allegations made against his client.
The letter from the law firm Bentsi-Enchill, Letsa & Ankomah dated 20th June 2023, asks Akosua to retract allegations she has made against Rex Omar in 14 days.
"We have our Client's instructions to demand from you, and accordingly we demand, that you publicly retract the defamatory statements made against him and render an unqualified apology to him for tarnishing his hard-earned reputation on all the media outlets you have used to defame him, within 14 days from the date of receipt of this letter. We further demand that you desist forthwith from making any further malicious and false public utterances against our Client," the letter states.
According to Rex's lawyer, Akosua has on a number of occasions accused their client of stealing money that belongs to the Ghana Music Rigths Organisation (GHAMRO) a group the 'Abiba' singer has worked for as Board Chairman since 2017.
The lawyer says without any evidential and lawful justification, Akosua has described their client, the members of the GHAMRO board and the Chief Executive Officer, Mr. Abraham Adjetey as criminals and thieves.
"On 23 December 2022, you granted an interview on a television programme called, ' Time with the Stars' in Twi, which was posted on one Larry Bozzlz's facebook page, where you stated that our Client and some Ghamro executives are embezzling Ghamro funds. You also granted an interview to One Captain Smart on Onua Tv, which interview was posted on YouTube on 22 March 2023 where you falsely stated that our Client together with Ghamro executives are embezzling Ghamro funds; and thus are thieves," he writes.
He also mentions that "on 25 May 2023 in an interview on Power FM, you repeatedly called our Client a thief for stealing Ghamro funds. Further, in the interview, you falsely alleged that our Client has stolen items belonging to his brother-in-law, without lawful justification or proof."
According to the letter, Rex Omar has denied these allegations of stealing and on several occasions given Akosua Agyapong the opportunity to investigate Ghamro's expenditure and/or to check the Auditor-General's report on Ghamro's expenditure to ascertain whether he has stolen Ghamro's funds but she has been unyielding.
"Our Client has also demanded that you produce the evidence of the alleged stealing, which you have, till date, failed to do. Yet you have persisted in your malicious desire to publish these blatant falsehoods against our Client," the letter indicates.
It also notes that Akosua's utterances against their client have negatively affected and lowered him in the eyes of right-thinking members of society, and further exposed him and his family to public ridicule, contempt and opprobrium.
"Further, your false statements have not only caused harm to his reputation but has also caused him emotional distress and financial losses," it states.
Read the letter below:
MORE: