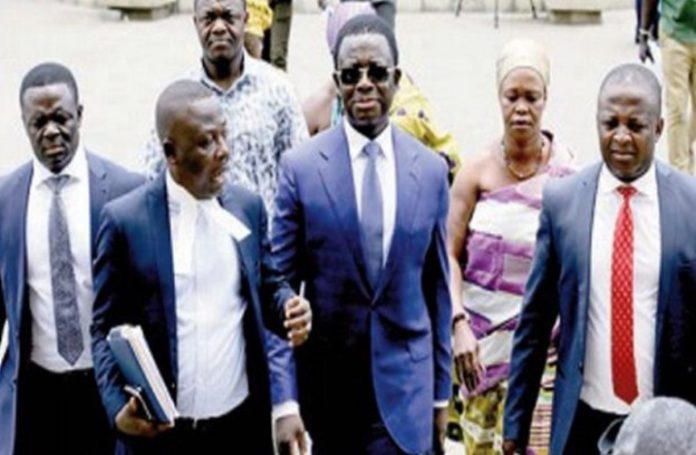 Deputy Attorney General, Alfred Tuah-Yeboah, has urged Justice Clemence Honyenuga (rtd) to refer the case of former Chief Executive Officer of Ghana Cocoa Board (COCOBOD), Dr. Stephen Opuni and businessman, Seidu Agongo, to the Chief Justice for it to be assigned to another judge.
This, according to him, is as a result of the limited time the retired judge has to conclude the case which has been ongoing since 2018.
Justice Honyenuga has less than two weeks for his six-month extension to expire, following the attainment of age 70 and his subsequent retirement from the Supreme Court.
He officially retired from the Supreme Court on September 4, 2022, but the Chief Justice, in accordance with Article 139(1c) of the Constitution, gave the judge six months pursuant to Article 145 of the Constitution, to conclude the trial.
No progress has been made since the extension, as Dr. Opuni on numerous occasions filed applications challenging the propriety of Justice Honyenuga to continue to preside over the matter in which he and Seidu Agongo have been accused of causing over GH¢217 million financial loss to the state.
The latest of such applications was one filed at the Supreme Court seeking a review and restraining order against the judge after the trial court's dismissal of his earlier motion asking the judge to recuse himself.
That application was dismissed last Wednesday by a seven-member panel of the Supreme Court, but the court is yet to give its full reasons for the dismissal. The full reasons would be made available on February 28, 2023.
Seidu Agongo has also filed an application before the trial court urging Justice Honyenuga to recuse himself from the trial on ground that the judge had excluded crucial evidence which inure to his benefit when he delivered his ruling on the submissions of no case to answer.
His counsel was expected to move the motion yesterday, but Deputy Attorney General, Alfred Tuah-Yeboah, urged the court to refer the matter to the Chief Justice for it to be assigned to another judge due to the limited time he has to conclude the case.
"My Lord was given a limited mandate to conclude the hearing of this matter. Today is February 23, 2023, and the time left for that mandate to expire is extremely limited. It is limited in the sense that the first accused person (Opuni) has not closed his case for the second and third accused (Agongo and Agricult Ghana Ltd.) to testify and call their witnesses," Mr. Tuah-Yeboah observed.
He added that, "Considering the time left, it is practically impossible for this matter to be concluded within that time. In the circumstance, we respectfully pray that my Lord refers this matter to the Chief Justice for this court to be reconstituted. This submission is being made in the interest of justice and fairness."
Samuel Codjoe, counsel for Dr. Opuni, said he has nothing to add to what the Deputy Attorney General told the court, while Nutifafa Nutsukpui, counsel for Seidu Agongo and Agricult Ghana Limited, said "we believe that this is a very commendable recommendation or suggestion from the prosecution. My Lord, we would also urge you respectfully to consider it favourably in the interest of justice."
Justice Honyenuga decided to adjourn the case to March 1, pending the Supreme Court releasing the full reason behind its dismissal of Dr. Opuni's motion for certiorari and prohibition