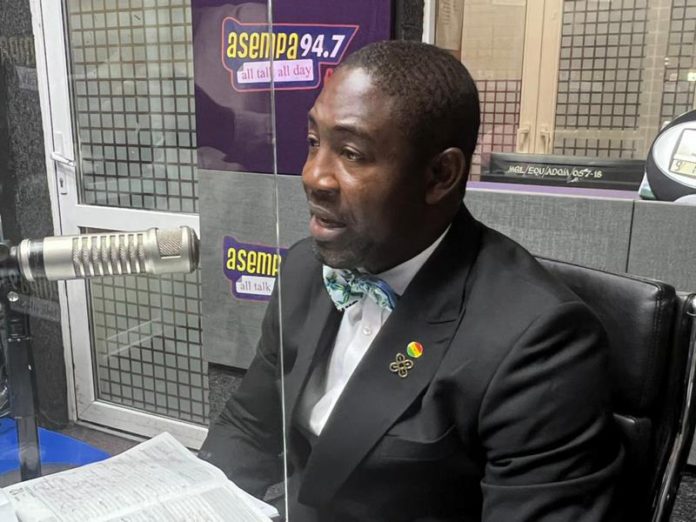 The Chief Executive Officer of the National Health Insurance Scheme (NHIS), Dr. Bernard Okoe Boye, has dismissed claims by the Member of Parliament for Juaboso Constituency, Kwabena Mintah Akandoh, regarding the alleged diversion of funds from the National Health Insurance Scheme (NHIS) by the Akufo-Addo-led government.
Speaking on Asempa FM's Ekosii Sen show on Thursday, Dr Okoe Boye said although the figures presented by Akandoh were accurate, his interpretation was false.
Dr Okoe Boye clarified that in 2021, the NHIS budget was 2.6 billion, which included claims and all other expenses. However, due to Covid, their percentage was low, but in 2022, they had 69 percent of their release.
Mr Akandoh had claimed that half of the funds allocated to the NHIS were being redirected to the Jubilee House for expenditures, which is affecting the insurance scheme.
"The figures he put out in the public were true but the interpretation was not true. In 2021, the NHIS budget was 2.6 billion which would include claims and everything but because of Covid, our percentage was low but in 2022 we had 69 percenrt of our release," he said.
Dr Okoe Boye presented evidence that no government, including former President Kufour's administration, had paid all monies allocated to the NHIS, as they often used the funds for road and other governmental projects.
He also mentioned that in 2013, former President Mahama's administration failed to pay all NHIS claims, but it would be wrong to make baseless claims about the NHIS being used to purchase private jets and insult the President.
"In 2013, when former Mahama was the President, they also failed to pay all the NHIS claims but we cannot say that he used it to buy private jets which will mean insulting the President and so Akandoh is wrong to have made those baseless claims about the NHIS," he said.
Dr. Okoe Boye encouraged the NDC MP to seek clarification from him instead of making baseless allegations.
Dr. Okoe Boye stated that within three years, his organization had injected close to half a billion cedis into the health system.
He also stated that they had digitized everything, including payments to hospitals, adding that the law need to be amended to deal with individuals who mishandle funds meant for the NHIS.
Listen to the audio below for more: