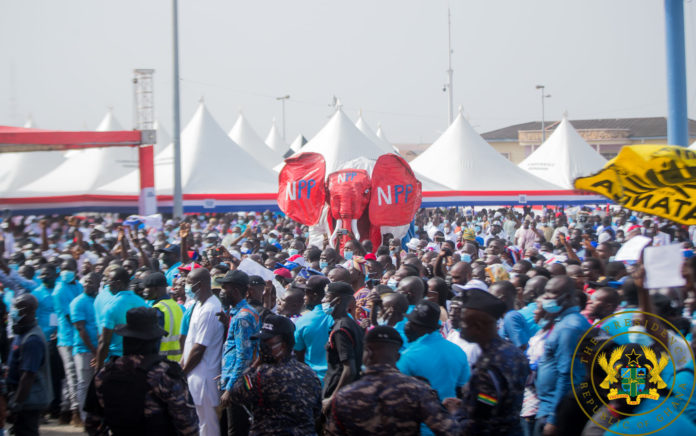 The Greater Accra Regional New Patriotic Party (NPP) has concluded the process of vetting and balloting of positions for aspirants contesting the parliamentary primaries.
A total of 48 persons, according to a statement issued by the Secretary, Daniel Nii Odarlai Parker have been given the green light to compete in the elections slated for December 2, 2023.
This election is for constituencies where the party currently has no representation in Parliament, commonly referred to as "orphan constituencies."
The constituencies where the election will be keenly contested include; Okaikoi North, Adentan, Ablekuma Central, Odododiodio, La-Dade Kotopon, among others.
The candidates for Adentan are; a former Ministry of Energy PRO; Kwasi Obeng-Fosu, popularly known as Baba Tauffic, gospel musician; Winfred Nartey Obimpeh, popularly known as O.B. Nartey, who also describes himself as the grassroots person, and a Deputy Director of the National Youth Authority (NYA), Akosua Manu Kozie.
The Ablekuma Central contest has a Deputy Director of Communication at the Office of the President, Jefferson Sackey; a businessman, Collins Amoah, former MP, Ebenezer Nii Narh Nartey, and Samuel Brako-Amoafo.
The Odododiodio Constituency will witness a two horse race between Nii Lantey Bannerman and Mannaf Sowah.
Also, the Okaikoi North contest has Editor of the Daily Dispatch; Kenneth Agyei Kuranchie, Esq, Prince Owusu Mensah, former Deputy MASLOC CEO; Alberta Afia Akoto Asomaniwaa, Stephen Kofi Adepa Nyarko, former MP; Fuseini Issah and Deputy Trade Minister Ama Dokua Asiamah.
Meanwhile, the Regional executives have been urged to monitor and ensure that all aspirants and constituency executives lead the charge to promote peace and unity within the party in the various constituencies.
The executives are also to verify the documents of aspirants who hold Dual Citizenship. This will ensure that all such aspirants have at least started the process of renunciation before the scheduled date for the Parliamentary primaries (December 2, 2023)
Below is the full list of the aspirants:
OKAIKWEI NORTH
Kenneth Agyei Kuranchie, Esq.
Mr. Prince Owusu Mensah
Alberta Afia Akoto Asomaniwa
Mr. Stephen Kofi Adepa Nyarko
Hon. Fuseini Issah
Hon. Ama Dokua Asiamah
PRINCE APPIAH DEBRAH, Esq.
MR. VALENTINO NII NOI NORTEY
MR. HARRY HAROLD QUARTEY
MR. REXFORD OPPONG ANSAH
HON. EBENEZER NII NARH NARTEY
MR. COLLINS AMOAH
MR. LAWRENCE ADJEI
MR. JEFFERSON KWAMENA SACKEY
MR. SAMUEL SARBAH LARTEY(Teacher Ago)
MRS. RITA ADOTEY
ODODODIODIOO
MR. ABDUL MANAF NII ADJEI SOWAH
MR. EDWARD PATRICK NII LANTE BANNERMAN
MR. ZAK RAHMAN
MR. BABA ALI YUSSIF
MR. IBRAHIM SANNIE
HAJJ ABDUL SAMAD SAID
ALHAJI MANAF MOHAMMADU OSUMANU ALIDU
HON. ABDUL WAHAB MOHAMMED
HON. PHILIP EDEM KOBLA DOE
MR. KWASI OBENG FOSU
MR. OBIMPEH KWAME NARTEY
MRS. AKOSUA SAA MANU
MADINA
MR. ROBERT LAMPTEY
ABDUL-RAHMAN DIALLO
MR. PADMORE BAFFOUR AGYAPONG
DR. SOLOMON A. BOATENG
LEDZOKUKU
DR. BERNARD OKOE BOYE
MR. COLLINS NII ASHITTEY OLLENU
MR. CLIFFORD MARTEY KORLEY
ALHAJI SOWA IBRAHIM ADJEI
KROWOR
ING EMMANUEL LARYEA ODAI
HON. AFOLEY QUAYE
SHAI OSUDOKU
MR. JONAS SACKITEY OPATA
MR. BENJAMIN NARGEH
MR. ARCHIBALD TAWIAH KORLETEY
MR. RENNER KWESI NOAH AWARTEY
SEGE
MR. DODZI KORKU NUMEKEVOR
MS EUNICE LASI
NINGO PRAMPRAM
MR. MICHAEL TETTEH-EKU
MRS PATRICIA ABENA NARKO KWEKIE KUMOJI-NARTEY
MR. JOHN MANTSE AKWETEY
KPONE KATAMANSO
HON. SAMUEL OKOE AMANQUAH
MR. WILLIAM OFOSU ASANTE
ASHAIMAN
MR. ESSEL JUSTICE KING
HON. THOMAS ABOTIBALA ADONGO
ALHAJI LABARAN YAKUBU BARRY