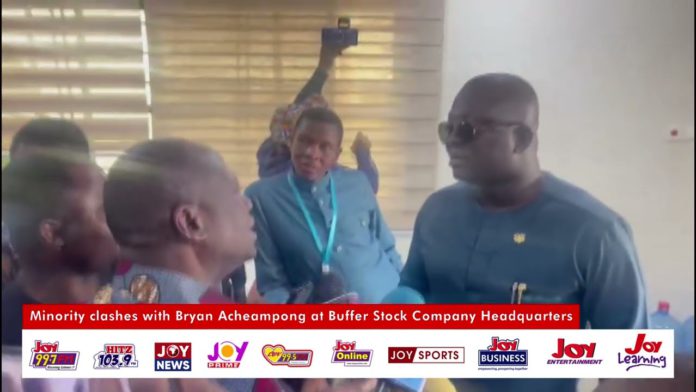 The Minister for Food and Agriculture, Bryan Acheampong has accused the Minority in Parliament of playing politics with debt owed suppliers of the National Food Buffer Stock Company (NAFCO).
According to him, he had resolved the issue and the suppliers had agreed to return home only for the Minority to regroup them to cause disaffection for government.
The Agric Minister made the comment on Asempa FM's Ekosii Sen programme Friday after storming the office NAFCO to confront the Minority who were ready for a press conference.
Some Minority MPs led by Dr. Cassiel Ato Forson engaged the suppliers for first-hand information about their plight to enable asked relevant questions on the floor of Parliament should the Ministers in charge appear for questioning.
But this act did not go down well with the Agric Minister who stormed the NAFCO office and stopped the press conference.
He could not fathom why the his colleague MPs will seek political capital out of the plight of the aggrieved food suppliers.
Mr Acheampong maintained that, their issue had been resolved thus the National Democratic Congress (NDC) MPs were only doing it for "political show".
"We will start paying the food suppliers from Monday June 17 so I have solve the problem" he added.