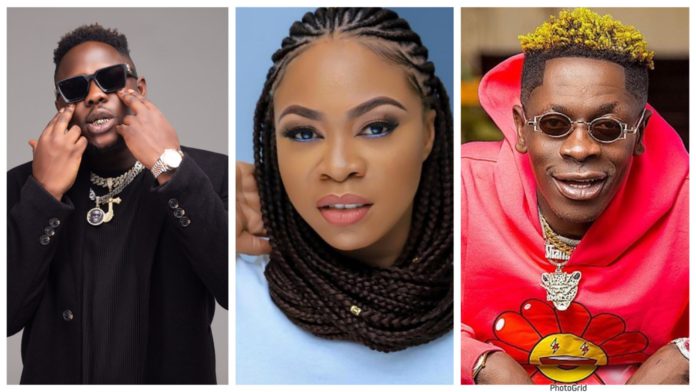 The birthday party of celebrated blogger GhKwaku started well, but the atmosphere soon changed to a hostile one when celebrities Medikal and Michy run into each other.
The duo, who used to be cordial, almost engaged in a 'tag-of-words' over some misunderstandings concerning Dancehall king Shatta Wale.
Medikal had in a previous interview on Luv FM praised Shatta Wale for sorting out a whole year's fee for his daughter Island.
"Shatta has paid Islands fees for like three terms, that's a year, and I am grateful," he is quoted to have said.
During the same interview, Shatta admitted shunning his parental responsibilities because he is being restricted from seeing his son Majesty.
Four months after the statements were made, Michy attempted to seek clarity from Medikal when they met at the party.
In what many have agreed is a mix-up, Michy accused Medikal of peddling falsehood to the public that Shatta had paid Majesty's fees for a year.
After complimenting his outfit, she went straight into savage mode and enquired from Medikal when the said fees were paid and which account it was paid to.
Medikal's efforts to clarify that the statement was made in reference to Island and not Majesty fell on deaf ears as Michy continued to verbally assault him.
To calm the storm, Medikal, who was at the event with his wife, took his leave, while cautioning Michy to respect herself.
An aggrieved Michy further took to her social media platform to clear her chest amid insults to both her estranged lover, Shatta and Medikal.
Below is Michy's altercation with Medikal:
SEE ALSO