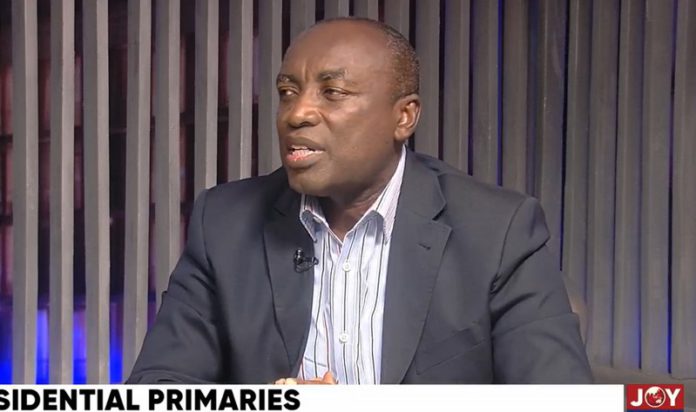 A flagbearer aspirant of the New Patriotic Party (NPP), Kwabena Agyepong, has said that he is disappointed former Sanitation Minister Cecelia Dapaah kept huge sums of money in her home.
Speaking on PM Express on JoyNews, he stated that in the age of digitisation, the governments should be encouraging and trying to get all Ghanaians within the formal setting of the economy.
Hence, Mr Agyepong said, he finds it disappointing that Mrs. Dapaah who was a Minister strayed from this.
"What for me I worry about, especially with this case, was the fact of the amount of money that was found in the household…Suffice it to say I was disappointed that that amount of money was in the household. It's important that we realise that we cannot, as politicians, preach one thing and do another," he said.
"So when you're encouraging everybody to be part of the formal economy, the least we can do as leaders is to lead by example. So I was disappointed that she would keep that amount of money in the household. It is important that as political leaders, we should have the political will to do the right thing for our country," he stated.
This comes after an Accra Circuit Court was told, in July, that huge sums of money and other items of Sanitation Minister Cecilia Abena Dapaah and her husband, Daniel Osei Kuffour had been stolen from their Abelemkpe home.
The news saw the minister receive much criticism not only about keeping such huge sums in her home but also about the source.
The Office of the Special Prosecutor has begun investigations into the money's source after petitions from some Ghanaians.
Mrs Dapaah as a result also resigned from her post stating that she did not want the controversy to cause problems for the government.
Despite this, Mr Agyepong said that he will not pass judgments on the former minister noting that state agencies are at work investigating the source of the money.
"I'm not prepared to pass judgment on her. Like others are doing, not at all. It is not my duty now. The state has agencies that have to look out for how she came by that money."
ALSO READ: