Boxer, Ayitey Power is thanking God for the humiliating defeat of his colleague Brimah Kamoko popularly known as Bukom Banku.
He revealed that, prior to the bout between Samir Batie, he fasted and prayed for God to teach his a bitter lesson.
"Bukom Banku does not believe in God so I prayed for Him to prove his worth so that he [Bukom] will know that juju [voodoo] is not everything".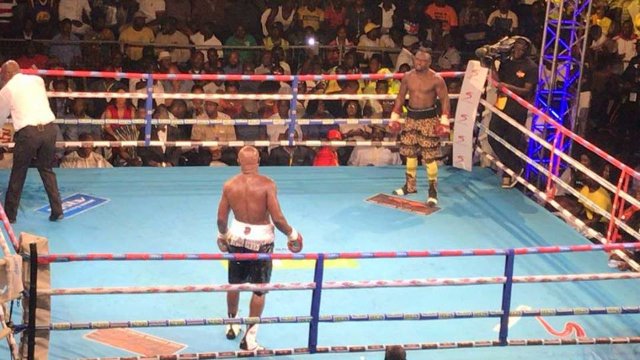 Bukom Banku has been mocked by many especially residents of Bukom after Bastie Samir shocking truncated his unbeaten run in a knockout in round seven of their cruiser weight bout on Saturday October 21, 2017 at the Bukom Boxing Arena.
Banku who called himself Ghana's 'Mayweather' entered the bout on the back of a 29-bout winning run could not stand the power of his younger opponent and twice visited the canvas during the bout.
Banku looked in danger of being stopped earlier after he fell but held on before Bastie delivered the clinical blows in the seventh round to secure the victory and maintain his enviable unbeaten record. 
The much-anticipated fight dubbed "Make or Break" lived up to expectations with both boxers putting up a good show for the fans. 
But Bukom Banku suspects foul play and is counting on a rematch to pacify his disappointed fans.
However, in an exclusive interview on Kofi TV, an elated Ayitey Powers said Bukom Banku has "met his meter".
"This fight has really humbled Bukom Banku because he thought he was the king and was terrorizing everyone in the town but now he has realized he is nobody" he scoffed.
Ayitey Power who was also defeated by Bukom Banku said he lost that fight because Banku did not fight with the right weight.
"You see when Banku fought with the correct weight he has been defeated? I have been vindicated" he stressed.
This notwithstanding, Ayitey Powers advised Bukom Banku to take it easy when he is mocked by fans of Bastie.
"He should hold his heart and take it cool when people are mocking him. I went through it and I have survived".
Watch full video below