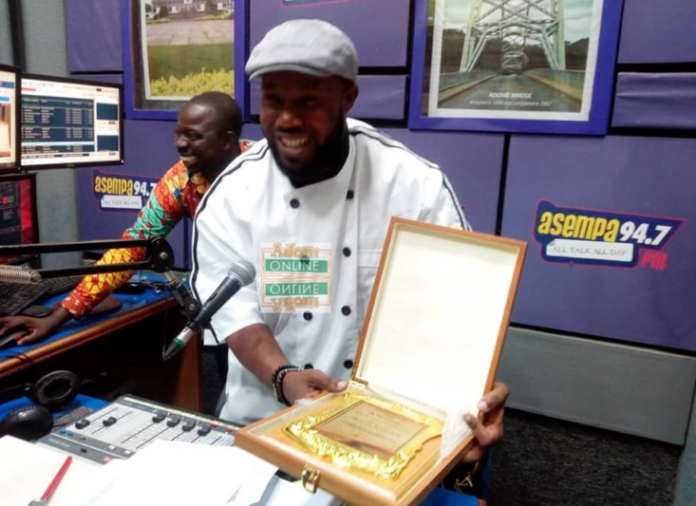 Multimedia's Sports journalist, Enoch Kwesi Worlanyo, popularly known as 'Prof Wallace', has been honoured with an ambassadorial plaque for his unflinching support, service, and commitment to sports which has made him unique among his peers.
The award was presented to the ace journalist by Go Ghana LLC during a live programme (SportsNite) in the studios of Asempa FM for his enormous contribution which has also earned him a role as a media consultant for Ghana Food championship which is being powered by Go Ghana LLC.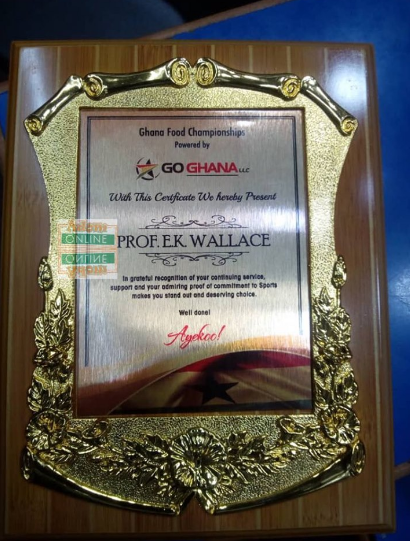 ALSO: Manasseh's book on Mahama's 'second coming' out in 3 weeks
According to the programmes manager of Go Ghana LLC, Eugene Brown Tagbor who presented the award, Prof. Wallace has been instrumental so far as the championship is concerned.
This does not come as a surprise as many of such awards have been received by Mr Worlanyo.
World Food championship is a global championship about food sport in America. Go Ghana is a partnering company in Ghana to host the qualifying stages for the World Food championship.
READ ON: Couple critically wounded in gun attack at Ada
The programme will be launched in February next year and it will be held in 10 different regions in Ghana.
The qualifying stages will serve as the preliminary ground for the main tournament in the United States of America next year.
The winners will be chosen in every region after which the grand competition will be held somewhere June next year.
SEE ALSO: Audio: Lawyer for 'murdered' Adomfe driver suspects police cover-up
Anybody who knows how to prepare food is welcome to the event; whether a chef, or someone who cooks at home and anybody who feels he has the skill to cook is free to participate.