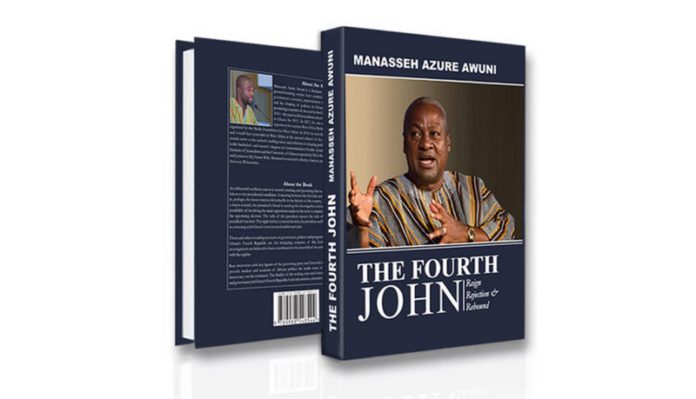 Freelance investigative journalist, Manasseh Azure Awuni, is set to release a revealing book on the presidency of John Dramani Mahama.
The book, which is titled The Fourth John: Reign, Rejection & Rebound, is set to be released in four cities beginning with Accra on the 27th of November 2019, theghanareport.com has hinted.
Written over a period of one year, the over 350-paged book chronicles the major events that shaped the Mahama presidency and delves deep to find answers to some of the critical characters and issues of the Mahama era.
Here is the blurb of the book:
"An influential northern caucus is secretly meeting and grooming him to contest the man who will select him as a vice-presidential candidate. A meeting between the first lady and the Brong-Ahafo caucus results in, perhaps, the fastest ministerial reshuffle in the history of the country. At 2 a.m., before the breaking of a major scandal, there is a meeting between the president's friend and the investigative journalist about how to involve the main opposition leader, in the story to minimise its damage to the president in the upcoming election. The wife of the president reports the wife of the vice president to the vice president's mother. The night before a crucial election, the president and his main contender are locked up in a meeting with Ghana's most revered traditional ruler.
"These and other revealing accounts on governance, policies, and programmes of the fourth presidency of Ghana's Fourth Republic are the intriguing contents of this book. Here, the journalist whose investigations are believed to have contributed to the downfall of the administration gets brutally intimate with the regime.
"Rare interviews with key figures of the governing party and historical contexts to contemporary events provide readers and students of African politics the inside story of what is considered the model democracy on the continent. The fluidity of the writing style and humour make this book about politics and governance in Ghana's Fourth Republic both informative, educative and entertaining."
The Ghana Report, which is the official media partner for the launch, will in the coming days bring you exclusive jaw-dropping excerpts of this intriguing account of power play and happenings in the heart of the regime.
Below are details of the launch:
ACCRA LAUNCH: November 27, 2019; 3:30 p.m. at Christ the King Parish Hall opposite the Jubilee House
KUMASI LAUNCH: November 28, 2019 @ 5:30 p.m. at Kumasi Golden Tulip Hotel
TAMALE LAUNCH: November 29, 2019 @ 5:30 p.m. at the GNAT Hall
BOLGATANGA LAUNCH: November 30, 2019 @5:30p.m. at Akayet Hotel
To pre-order your copy, contact Akosua on +233 551 751 499 or Betty on +233 263 202 688
For sales and partnership, contact Joseph on +233 278 626 916