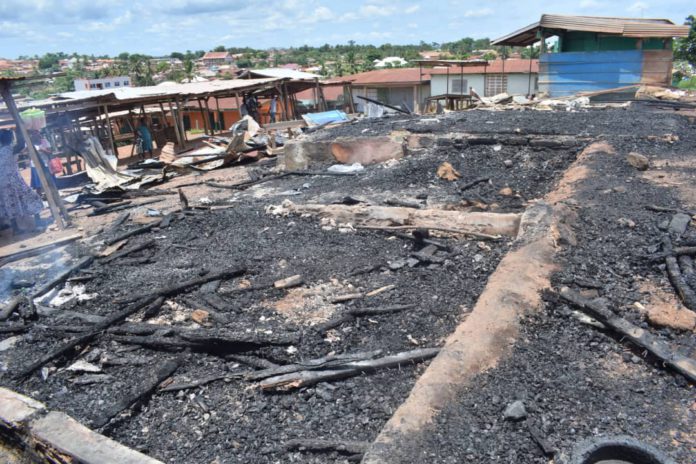 The Aowin Fire Service has disclosed the cause of the Suaman Dadieso market fire outbreak as intentional.
The Fire Commander, DO3 Norbert Amoh Sarfo, disclosed this to Adom News after conducting a forensic investigation.
Early this month, Adom News reported about the fire outbreak at the Suaman Dadieso market destroying items and property worth thousands of cedis whilst the cause of the outbreak remained unknown.
A thorough investigation conducted by the Aowin Fire Service has revealed that the cause of the outbreak was "intention-a deliberate misuse of a heat source or fires of an incendiary nature."
The Aowin Fire Commander, DO3 Norbert Amoh Sarfo said during the investigation it was revealed that none of the eight stalls destroyed had electricity or anything related to electricity.
The only source of electricity present was in a tailoring shop which was affected. But investigations proved it was not used about a week before the fire incident.
No elements of combustion were also present.
This led the command to the conclusion that the warehouses and the adjoining stalls where the fire started from were intentionally set ablaze.
The fire commander seized the opportunity to advise the residents and traders in the area to be their neighbour's keepers since there is no fire service in the Suaman District to reduce incidents of fire outbreaks.
READ ON