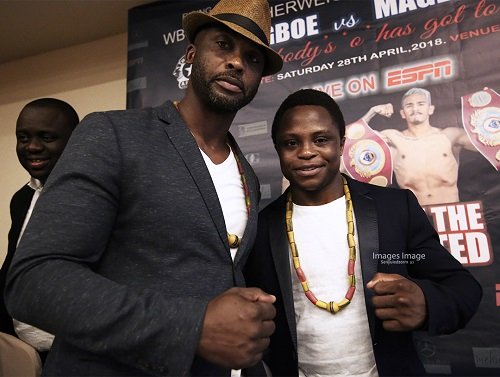 Isaac Dogboe's father Paul exclusively hinted to Joy Sports, he will advice his son to quit boxing following the humiliating loss suffered at the hands of hard-hitting Mexcian Emanuel Navarette in Tucson, Arizona on Sunday. 
Dogboe was totally outclassed by the taller and more effective Navarette before a predominantly Mexican crowd at the Tucson Convention Center the chain of punishments in the rounds was brought to an end when Paul Dogboe threw in the towel in round 12.
READ: Video: NDC's Sammy Gyamfi gives NPP's Okoe Boye 'standing ovation' as Pratt applauds MP
"I will not impose my will on him. However, I think he has had enough. I want him to return to school and continue his course and take another path in life. We worked hard but were unsuccessful at overcoming Navarette."
According to Paul he will have that conversation with his son but will leave the final decision to him to make. The ex-soldier form the British Army is also done being a boxing trainer. "I have done my bit and had enough. I worked hard with my son but at this stage. I want to move on," he told Joy Sports.
Causes of loss
READ: Shut down of radio stations childish and political – Franklin Cudjoe
Navarette has no charisma but gets the job done. His reach and height made it tough for Dogboe to launch forward to have an effect. The Ghanaian ex-world champion failed to put up a good defence and in the process received many avoidable punches. The two knockdowns for which he was counted cost him points. Dogboe was also punch shy and failed to land effectively on Navarette. The distance kept between the two of them in the center of the ring side.
The fight
Round twelve's happenings were to be expected because Navarette's devastating effect started from the sound of the bell for round 1. Constant initiation of his attack with uppercuts and follow ups. His swift left also did a lot to unsettle Dogboe.
The first three rounds were a story of continuous headshots which landing on a semi unprotected face. in each round, he looked almost finished at a certain point but remained on his feet.
READ: Audio: Asiedu Nketia attacks CID boss
The 24-year-old Ghanian fell (later adjudged a slip) and later staggered around the ring leaving no confidence in his fans for round four.
The fifth saw Dogboe land some decent shots to the body and head but failed to follow up.  The Mexican has his body protected and made it difficult for the Dogboe jabs to touch him.
For a moment the fans in the arena thought it was over as another set of consistent shots, hit Dogboe. He staggered into the lower part of the ropes and was counted but beat it. The fluid punching Mexican resumed immediately and piled more pressure. this drew spontaneous chants of his nickname "El Vaquero" ( the herdsman).
Isaac Dogboe resorted to leaning forward to deliver his jabs in an attempt to close the space the Mexican world champion, but this strategy failed severally. Rounds seven and eight saw similar patterns. the attack style of the Mexican left Dogboe momentarily dazed but he pushed to hold himself up.
The ninth brought with it some scares for Dogboe's fans as the Mexican threw and landed a chain of dirty punches to Dogboe's face. The 2012 Olympian wobbled round the ring while his Mexican opponent pursued him. He was pinned to the ropes and battered, then he clinched to stay on his feet. The Convention Center went almost silent when Dogboe landed a surprise big left that caused a swelling below Navarette's right eye.  
In the 10th Dogboe's struggles were mounting to a crescendo as he struggled to open his swollen right eye. Navarette, knowing this used his fast left to strike and aggravate further especially as Dogboe severally dropped his guard. The Ghanaian on some occasions regained his movement but will lean forward and try unsuccessfully to land some straight jabs on "El Vaquero". But the latter did well to close his guard to cushion the jabs and almost always got Dogboe on the counter punch to send the crowd into subtle roars of satisfaction.
By round 11, Dogboe looked ready to fall but kept going. The Mexican repeated the formula of striking through the Ghanaian boxer's guard with an uppercut and following up with a right to the body and a flash of the left to the rib area.
Source: JoySports/Nathaniel Attoh, Tucson Arizona