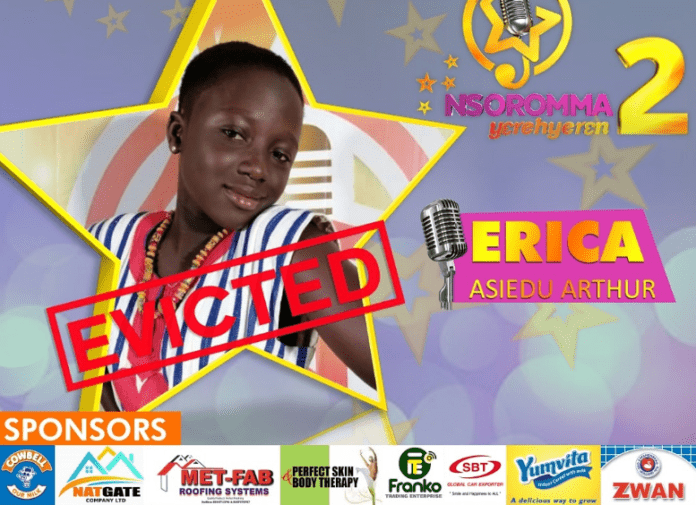 The journey for the ultimate crown for season two of Adom TV's music talent show, Nsoromma has ended for contestant Erica Asiedu Arthur.
She has excelled since the show commenced and showed eagerness and pure talent but unfortunately she garnered low votes which led to her eviction over the weekend.
This week's showdown at the Providence Events Centre at Trade Fair, Labadi attracted huge numbers who witnessed awe-inspiring performances from the talented kids.
Queen Miracle opened up the show with an exciting performance. She was well commended for her apparel. Performing like the maestro Kojo Antwi himself; the contestant rocked the patrons with his 'Oponko Abodam' song.
Nathanial Ofori followed next and he received lots of cheers with regards to his headgear. His mic control and demeanour proved he would go far in the competition. Choosing Samini's 'My Own' song was definitely a plus for him.
Nsoromma kid, Josephine Frimpong got Akwaboah nodding his head to Oheneba Kiss' song and it was marvelous how she handled the stage and fans. Host Jerry Justice had to urge the crowd to calm down before comments by the judges.
Reneil Aboagye got a lot of attention when she mounted the stage with Aboagye Dacosta's 'Feeling Bam' highlife tune. Many got out of their seats to dance to the song. Her dancing tag can't be taken away from the memory she created.
Ama Afrimaa Abaka entered with 'Bebrebe Yi' song by legendary Amakye Dede. The song preached about valuing the little one has in life.
Gillgod Arthur chose to rock the Patrons with Nana Acheampong's 'Anka Ebe Den' and he did it well.
Erica Asiedu Arthur selected 'Nyame Ahu Wo' by highlife veteran K. K. Kabobo and she got people singing along and trooping to the dance floor to showcase their skills.
SEE THIS:
Miliicent Asomaning's 'Su Fre Wo Nyame' performance excited fans to the max and the plus is that the song was composed by highlife champion, Amakye Dede. Unfazed by the chanting fans, she rocked them with an electrifying one.
Victor Ampofo Twum performed 'Afafranto' by Kojo Antwi. His costume was apt; one thing that couldn't go unnoticed about him was the wig he donned like the music maestro. The audience sang along like they were watching Kojo Antwi himself. Those who couldn't catch a glimpse easily nodded their head to the tempo of the song.
Stephen Nyameke performed 'Iron Boy' song by Amakye Dede. This kid has been winning hearts since the competition began and he keeps excelling. His deep voice compliments his craft which would eventually make him stay longer in the contest.
If not for his visual impairment, one could tell he would be a great dancer. Everyone was up and standing willing to catch a glimpse of him. Akosua Agyapong tagged him 'the voice of highlife' and awarded him some money for doing better than last week.
Dorothy Aikins performed K. K. Kabobo's 'My Sweet Love' song and he had complete control of the crowd.
Grace Adom Sarkodie performed 'Dabi Dabi' by Amakye Dede. Akosua Agyapong praised her for "killing the song". Akwaboah said her name was paving way for her in the competition because she was led by the grace of God.