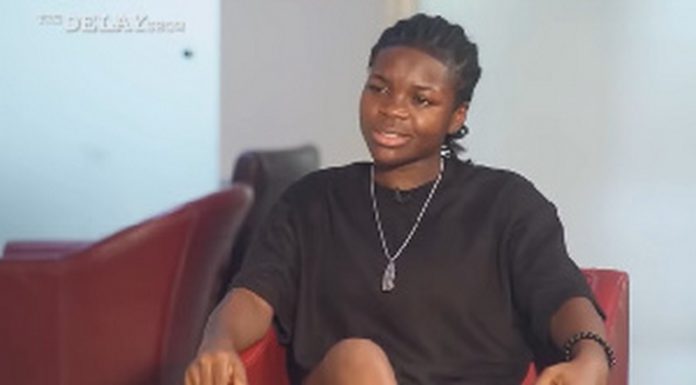 Endurance Grand, a promising football talent and member of the Dance With a Purpose Academy dance crew, recently shared her journey of leaving behind her dreams of becoming a professional footballer due to the unwelcome advances she faced from certain coaches and authority figures.
During an interview on the Delay Show, Endurance shed light on her fashion choices and her experiences within the football world.
"My preference for clothing traditionally associated with men has always made me feel comfortable. It's not just because of my football background; it's simply my personal style," explained Endurance. "I genuinely enjoy wearing masculine attire."
Endurance, originally from Ghana and raised in Nigeria, recounted her football journey, mentioning her involvement with various teams in both West African countries before ultimately deciding to step away.
She clarified that her decision was not due to a lack of skill. "I played for Anlo Ladies in the Volta Region and a league team in Nigeria," she shared. "However, I chose to stop playing because it wasn't the right fit for me. Sometimes, your talents may not align with your true purpose."
She went on to reveal the challenges she faced from coaches and individuals in positions of power who attempted to exploit her.
"I encountered numerous difficulties, with coaches and authority figures who tried to make inappropriate advances towards me. They sought to take advantage of me for their own gain, using my body as a means to advance my career. But that's not who I am," emphasized Endurance.
Addressing questions about her sexuality, considering her preference for dressing in a more masculine style, Endurance confidently stated, "People often jump to conclusions based on appearances. Let me be clear, I am attracted to men. I am straight, as straight as an uncooked spaghetti. There are men who appreciate women who dress in a more masculine manner," she proudly affirmed, identifying herself as a tomboy.
She further explained, "I don't always dress this way. Sometimes, the nature of my work requires me to step out of my comfort zone and embrace a more feminine style."
Currently single and not actively seeking a romantic relationship, Endurance made it known that her focus lies on personal growth and pursuing her own aspirations.
ALSO READ: