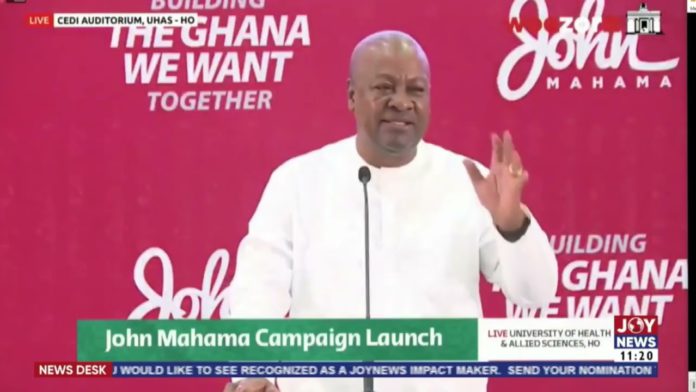 Former President John Mahama has said he will have sleepless nights if he does not contest the 2024 election to rescue Ghanaians from the prevailing economic hardship.
According to him, Ghana is at the stage it needs experience to turn around its economic fortune and not a trial and error person.
Addressing National Democratic Congress (NDC) supporters at Nhyiaeso in the Ashanti region, he noted he wouldn't have returned to contest the presidency.
"Who doesn't enjoy rest? I have been a president before and all that would have been required of me is to enjoy retirement with my lady Lordina. But I won't be able to sleep if I don't come back.
"It is important for the experienced ones to come back and rescue the nation," he said to loud cheers from the party supporters.
However, his return has been necessitated by the difficult place in which the country finds itself, adding it has to be returned to default settings.
"When you are working with a laptop and it begins to misbehave, you need to reset it so you can continue using it. So we need t reset Ghana so future generations can build on it," he added.
ALSO READ:
Mahama begins 3-day tour of Ashanti Region
Ashanti region NDC promises Mahama gargantuan victory
The flagbearer aspirant of the NDC lamented that aside from the suffering of Ghanaians, businesses are collapsing under President Akufo-Addo's administration.
The government he stated is also harassing owners with taxes and threatening to shut them down if they do not pay the taxes.
Ahead of the NDC primaries scheduled for May 13, 2023, Mr Mahama has visited four regions to court the support of party delegates.
He will be contesting the race with former Finance Minister; Dr Kwabena Duffuor, former Kumasi Mayor; Kojo Bonsu and UK-based businessman, Ernest Korbeah.
Play audio above: