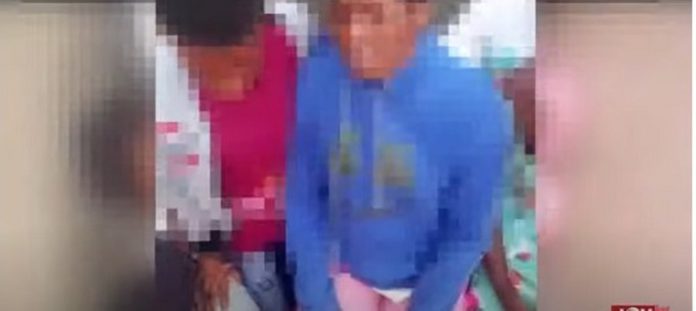 The eight dismissed students of Chiana Senior High School (SHS) in the Upper East Region have rendered an unqualified apology for insulting President Nana Akufo-Addo.
The students have taken to their knees to apologise for the uncouth act which has brought their education to an abrupt end.
Amidst tears, they took turns to render an apology to President Akufo-Addo, the Education Office, their teachers and the entire citizenry.
"I'm here with my colleagues to beg the president, the headmaster, the Education Office and fellow Ghanaians. We are sorry for our videos that went viral; we didn't mean for them to go viral it was a childish play and we didn't mean it.
"Our education means a lot to us and we are on our knees that the President should call us back and we call on our teachers to join us to plead," one of the students begged.
Another added, "I'm here to say sorry to the President for our video. I had no intention and I took it as a joke."
The students had been on suspension after their video went viral in November 2022, and have now been handed their dismissal letters.
The Ghana Education Service (GES) in the dismissal letter explained that the students have been dismissed for conduct that is "very undesirable, and contrary to the acceptable standards of the conduct generally required of any student in the educational system of Ghana."
The letter dated November 29, 2022, and signed by the GES Director General, Dr Eric Nkansah, asked that the guardians ensure that their wards hand over all school property to the school before leaving the school for good.
RELATED:
Chiana SHS students who insulted Akufo-Addo dismissed
I'm not happy and in shock – Parent of dismissed Chiana SHS student
Meanwhile, an aggrieved parent, Martin Akeleyiira, who has expressed reservations about the issue, has pleaded for the decision to be reversed.