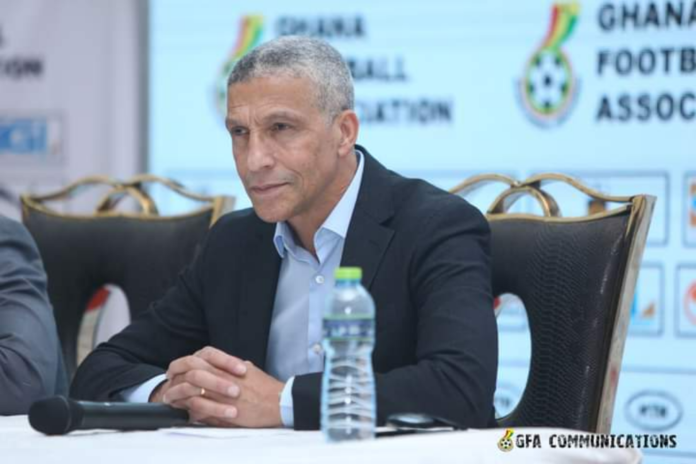 Ghana Football Association (GFA) President, Kurt Simeon Okraku, has dismissed reports suggesting that Black Stars coach, Chris Hughton was imposed on the FA.
In an interview with SuperSport, Okraku said Hughton's appointment as head coach was a result of the country's football governing body's confidence in him.
He emphasized the support of the Executive Committee and the Ministry of Youth and Sports for Hughton's role.
"Chris Houghton is a coach contracted by the Football Association of Ghana. If we didn't have the belief in Chris Houghton, he will never have been the head coach of the Black Stars.
"So long as he is the coach, he has the support of the Executive Committee, he has the support of the Ministry of Youth and Sports.
"We have been very supportive of his works and we will forever continue to give him all the support that he needs to ensure our success. We trust him and the rest of the backroom staff. If we want to win trophies, we must stand by the team, give them trust, and give them time.
"The Executive Committee had trust in him, we were sure about him, and we had a clear plan for him, which we executed."
Mr Okraku highlighted that Hughton now has a better understanding of the team after spending time with them.
The GFA had anticipated Otto Addo's departure and had a clear strategy in place for Hughton to succeed him.
"Before we gave the job to Otto Addo, we knew he wouldn't stay beyond December, and we had a succession plan, with Chris as his successor. That's why we brought him closer to the team, for him to get to know the players, their culture, and the team dynamics, and to get him ready to take over from Otto Addo.
"It was a very clear strategic strategy that we deployed, and today Chris is in a better position to lead the team than he would have been if we had handed him the responsibility earlier."
Chris Hughton has signed a 21-month deal as the head coach of the Black Stars, replacing Otto Addo, who left his role following Ghana's early exit at the 2022 World Cup in Qatar.
Since his appointment, Hughton has already led the team in two matches against Angola in the 2023 AFCON Qualifiers, winning one and drawing one.
READ ALSO