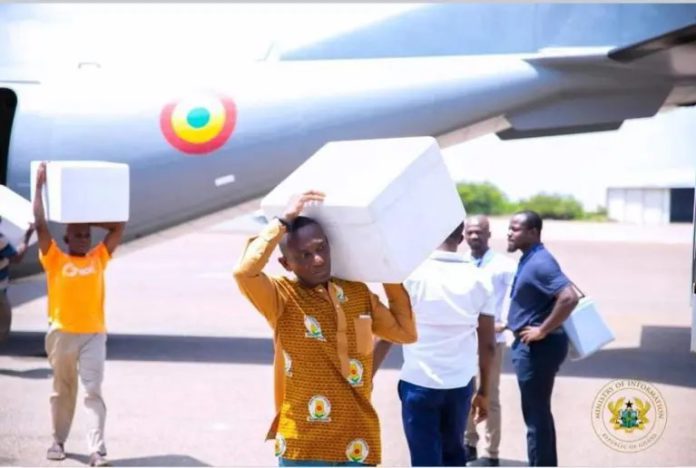 The Ministry of Health (MoH) has urged calm among Ghanaians over the supply of child immunisation vaccines in the country.
The spokesperson of the Ministry, Isaac Baah Offei, has assured all Ghanaian children will be immunised against childhood killer diseases.
According to him, the Ministry together with the Ghana Health Service has started delivery to hospitals nationwide and will get it everywhere in due course.
"Not all the hospitals have received the vaccines so parents should give us up to Wednesday so they can move in to vaccinate their kids," he said.
This comes after the first consignment of child immunisation vaccines including Bacillus Calmette–Guérin (BCG), Measles-Rubella (MR), and Oral Polio Vaccine (OPV) arrived in the country on Saturday.
Speaking on Adom FM's Dwaso Nsem, Mr Offei assured that steps were being taken for the country to take delivery of more children's vaccines.
"It's true we have received the vaccines and have started with distributions. By the close of today, we will be able to give the exact number of vaccines we have received so far as we work to bring in more vaccines.
"So I want to allay fears of Ghanaians that every child will be immunised in the coming days so all children must be made available for the process," he assured.
Ghana run out of essential BCG and OPV vaccines as a result of the Ministry of Health's failure to secure procurement of these vaccines since the year began.
The BCG vaccine is primarily needed to prevent the occurrence of tuberculosis in babies, while the OPV is to prevent polio infections.
Other essential vaccines to prevent diseases such as measles, whooping cough etc. are also in short supply.
ALSO READ:
Childhood killer diseases: Vaccines coming in 3 weeks – Health Minister
Akandoh takes on govt over shortage of child vaccines
Ghana receives first consignment of child vaccines

Already, the shortage of vaccines has triggered the spread of measles in the Northern and Ashanti Regions.
But reacting to the development, the Spokesperson admitted procurement and shipping challenges accounted for the shortage.
He explained the government as of last year initiated steps to procure the vaccines but at the time of payment, the dollar rate had gone up and exceeded their budget.
Mr Offei, however, assured the country by the end of 2023 will receive about three million vaccines as money has been made available to UNICEF to that effect.